Memorial for Czechoslovaks who fought against Nazi Germany in RAF unveiled in Prague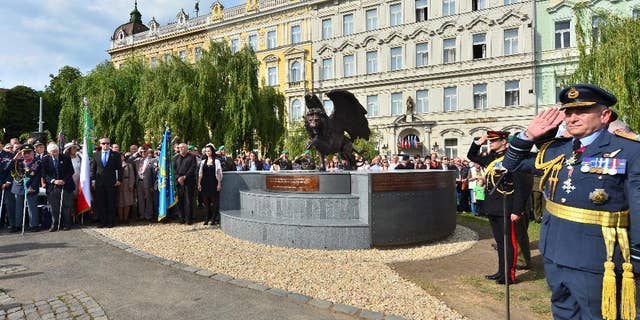 PRAGUE – A memorial honoring 2,500 Czechoslovakians who fought against Nazi Germany in Britain's air force has been unveiled in Prague.
The two-meter (6-foot-6) bronze statue of a winged lion by Colin Spofforth is placed in a park in the central and picturesque Little Quarter. It was unveiled Tuesday by Nicholas Soames, a grandson of Britain's wartime Prime Minister Winston Churchill.
Corporate and individual sponsors from the British expatriate community donated 100,000 pounds ($170,000) for the project.
The soldiers, including 88 respected pilots, fled Nazi-occupied Czechoslovakia to join the Royal Air Force. They participated in the Battle of Britain in World War II. Some 500 died.
Authorities approved the project despite a claim by the National Heritage Institute that its location wasn't suitable, saying another monument is already in the small park.