Mass exodus as ISIS fighters, families flee Mosul for Raqqa
SINJAR, Iraq – As bullets fly in Mosul, the rural roads leading west are choked with traffic – much of which is believed to be ISIS fighters fleeing to the terrorist army's Syrian stronghold some 275 miles away in Raqqa.
On a late morning this week, FoxNews.com observed through binoculars and from atop Shengal Mountain, also known as Sinjar, hundreds of cars crawling along dusty roads linking Iraq and Syria. To Kurdish military intelligence officials, the cause of the congestion was clear.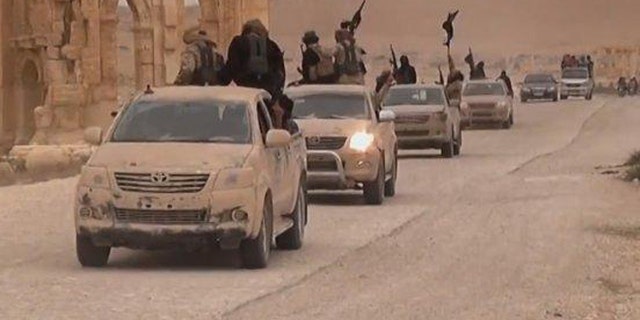 "I haven't seen anything like this. They are running away massively," a Kurdish military intelligence source told FoxNews.com, even as he spoke by phone to an ISIS informant traversing the distant road.
"Ten minutes ago, the airstrikes hit a bomb factory in Bulayj," the official repeated. "ISIS fighters came to Bulayj and arrested all the tribal sheiks and accused them of spying. Families are both willingly and being forced to go to Raqqa."
ISIS loyalists and victims alike appear to be using every means possible to flee, making the trip in pickup trucks, tractor-trailers and small vehicles.
When the exodus was still a trickle earlier in the week, ISIS sought to hide the escape route by burning tires along the roadside. But as FoxNews.com watched, only the dust from dirt roads provided scant cover in the distance as the convoys chugged westward.
The terror army's escape now depends on a different sort of cover.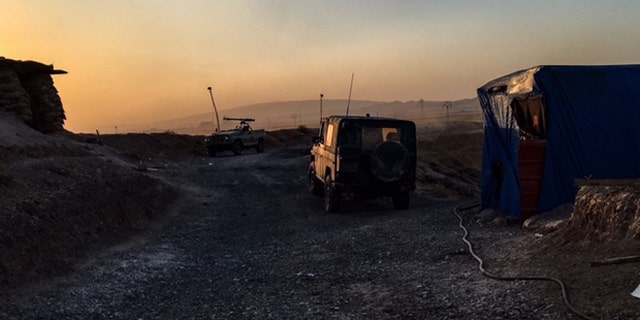 "ISIS often has many different things they do to block vision," another Peshmerga officer said. "But even so, we can't attack them [when they are] loading cars with kids and women. How could we attack kids? They have no part in this fight."
Similarly, the U.S.-led coalition won't unleash airpower with civilians in harm's way, giving ISIS -- and likely its leadership -- free passage to its Syrian base.
"ISIS is moving more and more of its families to Raqqa, they are kicking civilians out of their homes and occupying them," one source connected to Iraqi Forces intelligence explained. "Then, only the men return to Mosul to keep fighting."
According to multiple insiders familiar with the Mosul-to-Raqqa route and ISIS tactics, the group takes abandoned roads and moves through friendly, Sunni-populated villages that provide not only cover, but potential safe haven.
The journey is typically completed in three legs, first going from Mosul to the Syrian and ISIS-controlled city of Abukamal, with one more stop in the town of Shadiya before the journey to Raqqa is completed. Another route stretches from Mosul to the Iraqi ISIS stronghold of Tel Afar, then along dirt tracks to the border town of Ba'aj before Raqqa.
In the coming weeks, Kurdish officials predict the path will only get busier as ISIS prepares to surrender Mosul and retrenches in its last bastion. Pentagon officials have made clear that a move on Raqqa could quickly follow a successful operation in Mosul, where Kurds, Iraqi military, Shia militias and U.S. advisers are pushing inward to retake a city ISIS overran more than two years ago. Defense Secretary Ash Carter said last week the move to free the Syrian stronghold could commence in a matter "of weeks."
With Raqqa poised to be the bloodiest battle yet, U.S commanders have expressed concern that it may not be enough to effectively do the job.
"The U.S. will maintain an advice-and-assist role, and provide air support," a Pentagon spokesperson for Operation Inherent Resolve, the name given to the anti-ISIS mission, told FoxNews.com.
Activists from Raqqa told FoxNews.com that ISIS is bolstering checkpoints throughout the city, searching houses, rooting out suspected spies and sending a renewed wave of fear through the embattled city.
"ISIS is afraid -- arresting people every day, raiding Internet cafes," noted his colleague Tim Ramadan, a nom de guerre for the Raqqa native and activist who fled the fighting and now works documenting Assad regime and extremist atrocities.
ISIS is also spreading fear about the Iranian-backed Shia militias, which are sworn enemies not only of ISIS, but also all Sunni Muslims and U.S. troops as well. Derisively dubbed "the popular crowd," the militias are so vicious and volatile that the Iraqi government forbade them from entering Mosul out of fear they would commit atrocities.
"ISIS is telling the people that 'the popular crowd' is coming to fight you, not just us," Ramadan said.
Experts say the U.S. will have to follow through to help instill stability if and when Mosul and Raqqa fall and ISIS is vanquished. Some blame a premature pullout of U.S. troops for giving rise to the black-clad jihadist army now seen moving along the backroads that span its twin strongholds.
"I don't think the U.S., after declaring itself the leader in the fight against ISIS, can now step back without being seen in a similar light as post-Iraq 2010," added Clint Watts, Middle East expert at the Foreign Policy Research Institute. "Clearing the fight, but not being able to restore governance, leaving behind a broken country."