Mali crisis lays bare the divisions with the Muslim world as Islamic leaders gather in Egypt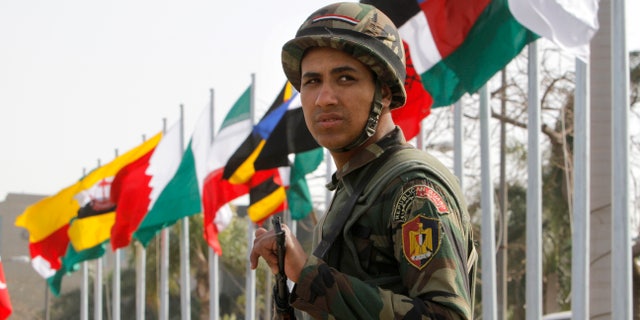 CAIRO – The president of Senegal commended France on Wednesday for its military intervention in Mali against Islamist militants, telling leaders of fellow Muslim nations that they cannot allow "a minority of terrorists to commit crimes, distort our faith and deepen hatred for Islam."
Macky Sall's opening address laid bare the divisions among the nations taking part in the Organization of Islamic Cooperation's two-day summit in Cairo, which brings together leaders from across the Muslim world.
The French-led military intervention in Mali, which includes forces from Senegal, is aimed at driving Islamist militants from the territory they have overrun in northern Mali in recent months.
Egyptian President Mohammed Morsi, who is hosting the conference, has repeatedly denounced France's operation in Mali, saying Paris' action there would lead to the development of a hotspot in the area and lay the seeds for a wider and bloodier conflict. Morsi's Islamist allies at home have demonstrated outside the French embassy in Cairo to protest French intervention.
Addressing the conference on Wednesday, Morsi did not directly condemn the French intervention, but made clear that Cairo did not favor military actions in Mali.
"We call for a comprehensive approach to deal with the situation there and any similar case" he said. "An approach that deals with all the different aspects of the crisis and its political, developmental and intellectual roots while safeguarding human rights."
The deepest division in the Islamic world runs along the faith's Sunni-Shiite fault line, a rift that was on full display during a meeting on the eve of the summit by its most high profile participant — President Mahmoud Ahmadinejad of Iran, the region's Shiite power.
Sunni-Shiite tensions dominated talks between Ahmadinejad and Egypt's most prominent cleric, Sheik Ahmed el-Tayeb, who upbraided the Iranian leader on a string of issues and warned against Iranian interference in Gulf nations, particularly Bahrain, where the ruling Sunni minority has faced protests by the Shiite majority.
El-Tayeb said attempts to spread Shiite Islam in mainly Sunni Arab nations were unacceptable and called for a halt to bloodshed in Syria, where Tehran's ally President Bashar Assad has been battling mainly Sunni rebels, according to a statement by Al-Azhar about the meeting.