Macron says EU may block UK's Brexit plan: 'The time has come for the British to make choices'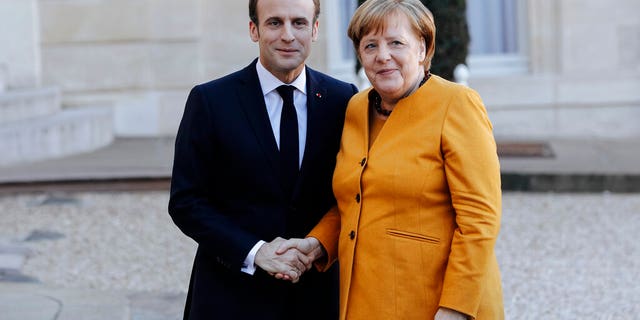 French President Emmanuel Macron on Wednesday said that the European Union may block any push for a delay in Britain's departure from the bloc if there was not a "clear perspective" -- setting the scene for yet another showdown between London and Brussels.
"The time has come for the British to make choices," Macron said alongside German Chancellor Angela Merkel, according to Politico. "We could examine a request for an extension, if it is justified by new choices by the British. But under no circumstances would we accept an extension without a clear perspective" on the way forward.
UK PRIME MINISTER THERESA MAY OPENS DOOR TO 'SHORT, LIMITED' BREXIT DELAY
"We don't need time, we need decisions," he said.
"If Britain needs a bit more time, we will not refuse that, but we are aiming for an orderly solution — an orderly withdrawal by the British from the European Union," Merkel agreed, while showing a little more flexibility.
Macron has positioned himself as the main driver of pro-E.U., globalist forces on the continent, despite facing trouble at home and low approval ratings. He has made no secret of his opposition to Brexit, and his remarks show the challenge May faces in encouraging European leaders to soften their stance.
E.U. leaders have attempted to take a tough line with Britain, possibly in part due to fear that if Britain is seen as getting a good Brexit deal, it may encourage Eurosceptic forces in other countries to demand their own forms of Brexit. Britain is scheduled to leave the E.U. on March 29, but after Parliament has shot down a draft withdrawal agreement with the E.U., U.K. Prime Minister Theresa May opened the door on Tuesday to a "short, limited" delay until June.
ANTI-BREXIT MPS BREAK AWAY FROM BOTH MAIN PARTIES, FORM PRO-EU INDEPENDENT GROUP
On Tuesday, May told the House of Commons that there will be a new "meaningful vote" on her deal on March 12. Should that fail, as expected, there would be a vote a day later on a "no-deal Brexit." May said that, if that fails also, the government would put forward a motion on March 14 "on whether Parliament wants to seek a short limited extension to Article 50" -- referring to the trigger mechanism by which Britain would leave the E.U.
"Let me be clear, I do not want to see Article 50 extended," she said, after clarifying that the delay would be no later than the end of June. "Our absolute focus should be on working to get a deal and leaving on 29 March."
CLICK HERE FOR THE FOX NEWS APP
But that goal seems unlikely too, with Macron and Merkel both saying that the E.U. will not renegotiate the deal -- a line being held to by a number of E.U. leaders and top officials.
French officials told Reuters that the French would only agree to a delay if it came with a solution such as a general election, a new plan, or a second referendum.
The Associated Press contributed to this report.