Macedonia opposition says name change an issue of conscience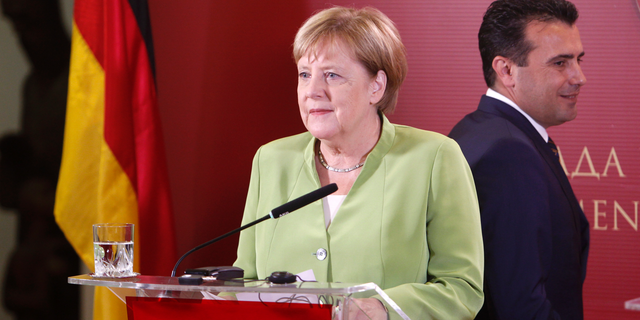 SKOPJE, Macedonia – Macedonia's conservative opposition leader has told supporters to vote "with their conscience" in an upcoming referendum on changing the country's name.
The opposition is strongly against changing the country's name to "North Macedonia," a move meant to resolve a longstanding dispute with Greece, and had been widely expected to urge a "no" vote for the Sept. 30 referendum. Their appeal Wednesday appeared to be the latest boost for the "yes" campaign, which has received strong backing from the United States and western governments.
In remarks published on the VMRO-DPMNE party's website, leader Hristijan Mickoski said the vote was up to "each individual, with their conscience and morals" to "decide what's best for their family and our beloved Macedonia."
The name change means Greece will drop its veto over the country joining NATO. Greece has worried that its neighbor's name implied a claim on the ancient heritage of its own region of Macedonia.
Macedonia's center-left government launched its referendum campaign earlier this week, urging people to support the name change.
The campaign is being vocally supported by western governments, and NATO Secretary General Jens Stoltenberg, Austrian Chancellor Sebastian Kurz, and German Chancellor Angela Merkel all visited the capital Skopje last week to urge Macedonian voters to back the deal.
U.S. Defense Secretary Jim Mattis told reporters at a Pentagon briefing Tuesday he was planning to visit Macedonia at the weekend, adding that he was concerned about alleged acts of "mischief" by Russia to try and block the country's path to NATO membership.
Russia denies claims of interference but openly opposes NATO expansion eastward.
Wess Mitchell, a U.S. Assistant Secretary of State for European and Eurasian Affairs, will also visit Macedonia Thursday.
Kosovo's President Hashim Thaci also buoyed the "yes" campaign at a meeting Wednesday in Skopje.
"From my humble position, I call on all people in Macedonia to participate in the referendum and to say "yes." I think this is an historic moment that needs to be seized," Thaci told reporters.
___
AP Writer Derek Gatopoulos contributed from Athens, Greece