Los Angeles Mayor Eric Garcetti Uses Spanish Skills To Curry Favor In Mexico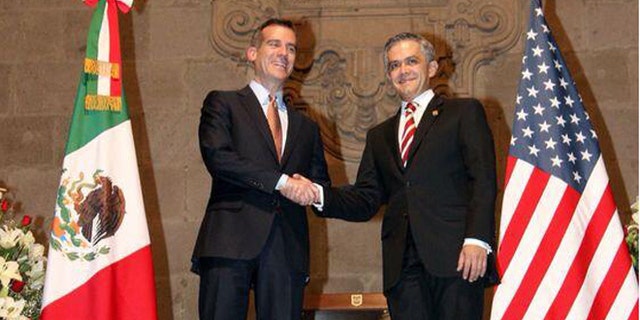 Eric Garcetti became the second Spanish-speaking mayor from Los Angeles to make an official visit to the capital of Mexico, where he discussed trade and the growing ties between the U.S.'s southern neighbor and its second largest city.
While the official purpose for the visit was economic, the focus of the trip in both the U.S. and Mexican media primarily looked at Garcetti's Spanish-language skills.
The L.A. mayor – like his predecessor Antonio Villaraigosa – has Latino roots, but mostly learned his Spanish in school and on the job, speaking a form of the language that the Los Angeles Times dubbed "Funky American Business Spanish."
Garcetti also worked on his Spanish in his previous post as the representative of Los Angeles' heavily-Hispanic 13th City Council District and spoke the language frequently during his mayoral campaign.
During his stop in Mexico City, Garcetti was besieged by the Mexican press corps eager to speak with the U.S. mayor with Mexican roots – his paternal grandfather was from Mexico – and an Italian last name.
"Yesterday I think I did 15 individual interviews" in Spanish, Garcetti told the Los Angeles Times. "At the end of the day, your head kind of hurts. But the next day, you're speaking it again, and it hurts a little less."
Garcetti continued to put his Spanish to the test during a closed-door meeting with Mexican President Enrique Peña Nieto – himself criticized for speaking limited English – and during a news conference at the Industrial Club of Mexico, where he spoke fluently but with a few mistakes.
Garcetti's Spanish "is pretty good, it's pretty fluid," Isaac Ajzen, a reporter for diariojudio.com, a website for Mexico's Jewish community said. "Obviously, he's lacking a few words."
While Garcetti's mispronunciations and vocabulary screw-ups would be the cause of mockery and scolding if he was given a press conference in Spain or France, Mexicans tend to be a little more forgiving and appreciate that any U.S. leader is making the effort.
"There's no gotcha involved here," Gil Cedillo, an L.A. councilman who is traveling with Garcetti and who started speaking the language seriously only after 1998, when he was elected to the California State, even though he grew up in a Latino neighborhood with Spanish-speaking parents.
"I know I'm limited," he added. "I know my grammar is not correct. But I know people here appreciate the effort."
In regards to his state visit, the mayor's Spanish language push appears less about connecting with his cultural heritage and more about continuing to grow ties between the L.A. and Mexico. The country is the L.A. metropolitan area's second-largest export market, with trade amounting to $2.2 billion in 2010 and the largest number of foreign tourists to L.A. are from Mexico.
Follow us on twitter.com/foxnewslatino
Like us at facebook.com/foxnewslatino