Lightning, flash floods kill 50 in Yemen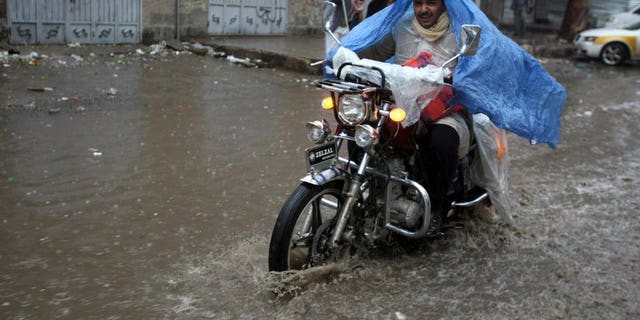 SANAA (AFP) – Lightning and flash floods have killed 50 people in Yemen since Friday, including 27 who died when a torrent washed away a wedding convoy, local officials said Saturday.
Storms have battered the Arabian Peninsula country since Friday, triggering flash floods in several areas that killed 41 people, while nine others, including a soldier, were struck by lightning and died.
The wedding convoy was travelling Friday through Wadi Nakhla, in the Taiz province, 260 kilometres (166 miles) south of Sanaa, when it was swept away by a torrent, a local official said on Saturday.
Three women and four children were among the dead.
Twelve bodies were also found in Udayn district, in the central province of Ibb but many motorists are still missing after their cars were carried away by floods, another official said.
Two women were also killed in flash floods in northern provinces, local officials said.
Yemen, at the southwestern tip of the Arabian Peninsula, is prone to floods triggered by monsoon downpours that cause massive damage due to the lack of infrastructure in the most impoverished Arab country.