Libya's loot: South African banks may hold $1B in gold, diamonds stolen by Qaddafi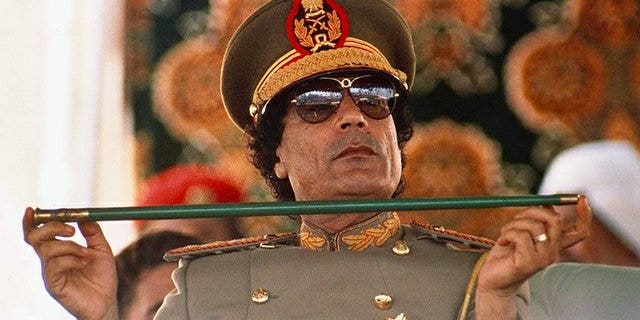 More than a billion dollars in cash, gold and diamonds believed looted by late Libyan strongman Muammar Qaddafi during his 40-year reign may have been found socked away in South Africa -- just a fraction of the wealth the dead dictator is suspected of stealing.
Libyan investigators, who believe Qaddafi may have taken as much as $100 billion of his North African nation's wealth, have zeroed in on $1 billion or more being held by four banks and two security companies in South Africa, according to The Sunday Times of South Africa.
Libyan authorities, who are working with the Arab League and Interpol, believe stolen assets are squirreled away all over the world. The stolen loot is the sum of years of treating one of the world's richest countries as his own piggy bank, according to Prof. Shaul Gabbay, a Middle East expert and senior scholar at the University of Denver.
"There was,of course, no transparency and he and his family's dealings with the nation's wealth was as if it was their own," said Gabbay. "This includes total control of the management of state and personal bank accounts.
[pullquote]
"People who worked in auditing or government ministries would be afraid for their and their family's lives if they would raise any concern," he added.
Some assets have been easy to seize, such as the $16 million mansion Qaddafi's son Saadi owned in an exclusive London neighborhood. But tracing money in secret bank accounts and hidden investments is a much more complex process, especially given that the money being sought was likely taken by a host of Qaddafi loyalists.
"These assets are really difficult to find and also difficult to claim back," Libya's deputy ambassador to London, Ahmed Gebreel, told the BBC last year.
Libyan Deputy Prime Minister Mustafa Abushagur has vowed to pursue the trail of looted funds, much of which are believed to be held in banks in Switzerland, the UK, Qatar and the United Arab Emirates.
But to date, the $1 billion-plus believed held in South Africa could be the biggest haul. The Sunday Times reported that Libyan investigators have already met top government officials to discuss locating and repatriating the loot.
A follow-up letter sent by ANC head of security Tito Maleka on April 23 confirms that the visit "with our president in Nkandla" is an indication that "the South African government is prepared to cooperate" in "identifying all assets belonging to the Libyan people".
Investigators tracing the funds are believed to be acting on information from Libya's former intelligence chief, Abdullah al-Senussi, who was arrested last year for crimes against humanity. Letters from Libyan officials quoted by the newspaper seek for cooperation in securing "all funds and assets that have been illegally possessed, obtained, looted, deposited or hidden in South Africa and neighboring countries" by the dictator, "his wives, his sons, his daughters and other relatives, close associates, private and government [or] business persons in Africa."
The letters say that the Libyan investigators have "uncovered large funds and assets in South Africa and neighboring states." One bank account, which investigators claim was traced through check stubs found in Libya, is registered in the name of Qaddafi's uncle, Abdulhafid Ahmed el-Qaddafi, a former Libyan Army general.
They are convinced that part of the loot in South Africa is held by Qaddafi's former chief of staff, Bashir Saleh, known as "Qaddafi's banker." Saleh, who also goes by Bashir al Shrkawi, is on Interpol's wanted list.
In the weeks before a mob yanked Qaddafi out of a drainpipe and killed him in October 2011, the longtime despot was on the run and rumored to have fled the desert nation. Reports of Niger-bound convoys of his wives and family members, laden with gold and cash, were common as the civil war that toppled him raged.
In addition to gold and cash, another of the oil-rich nation's greatest treasures disappeared in the chaos of the 2011 revolution. Interpol alerted police around the globe of the theft of the so-called "Benghazi Treasure," which was stolen from a bank vault in May 2011. The looted treasure, which includes Greek and Roman gold, had been stored in two padlocked chests inside a safe. It had never been displayed and had been virtually forgotten, except by specialist archaeologists, according to The Art Newspaper.
Some of the treasure has reportedly surfaced in Egypt and on the black market in Libya. The United Nations Educational, Scientific and Cultural Organization's Director-General Irina Bukova has called the loss of the Benghazi treasure "one of the largest thefts of archaeological material in history."