Lawyers appeal sentence for Bahrain hunger striker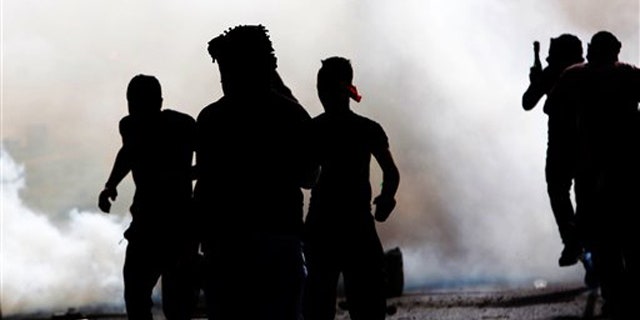 MANAMA, Bahrain – Lawyers for a Bahraini human rights activist who is on hunger strike and attorneys for 20 other opposition figures appealed their convictions on anti-state charges on Monday.
Activist Abdulhadi al-Khawaja is serving a life sentence for his role in last year's uprising in the Gulf kingdom. Seven other prominent opposition leaders were also sentenced to life imprisonment. Another 12 received lengthy prison sentences in a special security court, which was set up after the country imposed martial law last March to quell political unrest.
Al-Khawaja was arrested in April during a government crackdown on protests staged by the country's Shiite majority demanding greater rights from Sunni rulers.
His lawyer Mohammed al-Jaishi said that he and the attorneys for the other 20 leaders appealed their clients' convictions and sentences during Monday's session in Bahrain's Court of Cassation.
The attorneys also asked a five-judge panel to free the prisoners on bail -- a request the judges declined, al-Jaishi said.
Another hearing in the case was set for April 23.
The 21 activists were convicted by a special security court in June of participating in efforts to overthrow the ruling dynasty. Of those, seven had been tried in absentia.
Al-Khawaja has been on hunger strike for more than 50 days. He has been refusing food since Feb. 8.
Last week, Amnesty International urged Bahrain to free him because of fears he could die.
The Court of Cassation is Bahrain's top civilian court of appeals. The special security court, where protest-related trials were held behind closed doors with military prosecutors and judges, was abolished in November after being criticized by international investigators. Bahrain lifted martial law in June.
Al-Khawaja is one of seven opposition figures who have been sentenced to life imprisonment in the tribunal.
Hundreds of other Bahrainis including protesters, activists, athletes and Shiite professionals such as doctors and nurses have been tried in the court. Dozens were jailed after being convicted of anti-state crimes, including treating injured protesters during the unrest.
Al-Khawaja, 52, is a former Middle East and North Africa director of Frontline Defenders Rights organization. He has also documented human rights abuses in Bahrain for Amnesty International and Human Rights Watch.
Al-Khawaja, who is married and has four daughters, is also a citizen of Denmark, where he lived in exile for decades. He returned to Bahrain after the government announced a general amnesty in 2001.
The Danish government has closely followed al-Khawaja's case. Last year Denmark's ambassador to Saudi Arabia attended court hearings in Bahrain. Danish Foreign Minister Villy Soevndal earlier this month raised the issue with his Bahraini counterpart, Khaled al-Khalifa, and asked that al-Khawaja either be released or be tried before a civilian court.