Ivory Coast Elected Leader: Forces Won't Capture Gbagbo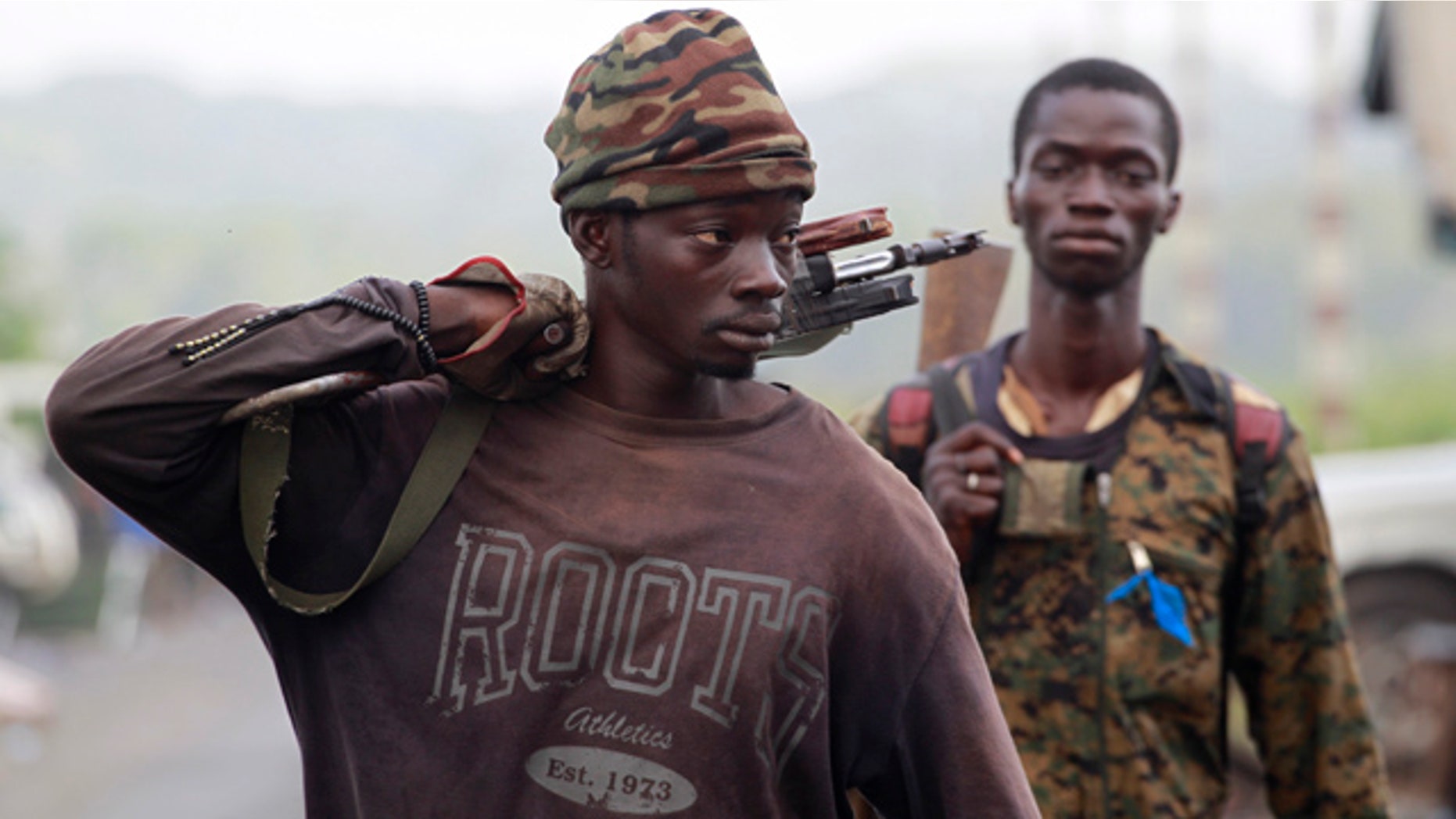 ABIDJAN, Ivory Coast – Ivory Coast's democratically elected leader said his forces won't capture the entrenched strongman who remained holed up Friday in an underground bunker at the presidential residence, and instead will focus on normalizing life in the besieged city.
As the political stalemate dragged on in Abidjan, there were new concerns about tensions erupting into violence in the country's west. The U.N. said more than 100 bodies have been found, and that some of the victims had been burned alive.
"All the incidents appear at least partly ethnically motivated," said Rupert Colville, spokesman for the U.N. High Commissioner for Human Rights, in Geneva.
News of the bodies came a day after the International Rescue Committee warned that chaos was escalating, citing an "explosive mix of political, economic and ethnic tension" in the West African nation thrown into disarray by the November presidential election.
"Even if the political and military showdown in Abidjan ends today, we're concerned that looting, hostility, bloodshed, reprisal killings and sexual assaults will escalate in communities across the country," said Louis Falcy, the IRC's country director in Ivory Coast.
In his first television appearance since the siege of Abidjan began, Alassane Ouattara said late Thursday that his forces are setting up a security perimeter around the compound where Laurent Gbagbo is staying with his family.
Ouattara also said his troops will work to secure the streets of Abidjan, where people have hidden inside their homes this week amid heavy arms fire. U.N. and French forces have been attacking Gbagbo's weapons arsenal, which has been used against civilians during the four-month-long political standoff.
In his speech, Ouattara also sought to get the economy of the world's largest cocoa producer functioning again, calling for banks to open Monday and for the European Union to lift sanctions so that cocoa exports can resume. The goals are ambitious ones, though, under security conditions so dire that U.N. and French forces have been evacuating foreigners from Abidjan neighborhoods.
Ouattara was declared the winner of the November presidential election but Gbagbo has refused to cede power. On Thursday, he continued to insist he'd won and stressed he would never leave the West African country he has ruled for the past 10 years.
"I reached the head of state and his wife less than an hour ago and no, he will not surrender. President Gbagbo will not cede," said his adviser Toussaint Alain by telephone from Paris. "It's a question of principle. President Gbagbo is not a monarch. He is not a king. He is not an emperor. He is a president elected by his people."
Gbagbo was declared the loser both by his country's electoral body and by international observers including the United Nations. After four months of diplomacy, Ouattara gave the go-ahead for a military intervention led by fighters from a former rebel group. U.N. and French forces joined the effort this week.
Ouattara's forces stormed the gates of Gbagbo's home on Wednesday. But the group has stopped short of killing the entrenched leader, a move that could stoke the rage of his supporters. Some 46 percent of Ivorians voted for Gbagbo.
French Defense Minister Gerard Longuet estimates that Gbagbo has some 1,000 troops, compared to the 2,000-strong force that has been fighting to install Ouattara.
"This will be over very soon," Ouattara's envoy to the U.N. Youssoufou Bamba said in New York. But such predictions over the past week have proved wrong.
He said when Gbagbo is taken "he will be alive and well. He wants to be a martyr. We won't allow (his death) to happen."
In New York, U.N. Under-Secretary-General for Humanitarian Affairs Valerie Amos said she is "extremely concerned" about the situation in Abidjan, which has led hundreds of thousands of residents to flee their homes in the commercial capital.
"People who have remained are trapped in their homes by the fighting that has raged on around them for over a week," she said in a statement.
The pro-Ouattara forces began their lightning advance just over a week ago attacking from the east, west and center of the country. At least 80 percent of the countryside was under their control by the time they entered Abidjan.
___
Associated Press writers Rukmini Callimachi in Abidjan, Ivory Coast and John Heilprin in Geneva contributed to this report.