Italy's Berlusconi adopts Trump's rhetoric as election nears, calls migrants a 'social bomb'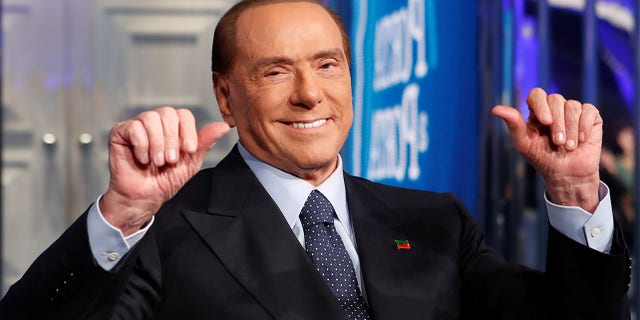 NEWYou can now listen to Fox News articles!
Former Italian Prime Minister Silvio Berlusconi is on the cusp of a major political comeback in a month's time -- and as he looks to seal the deal with a migration-weary Italian public, he is taking a page out of President Trump's rhetorical playbook.
Italians will go to the polls on March 4, with many analysts believing that the most likely outcome is either a parliament where no party has the majority, or a victory for Berlusconi's right-wing coalition -- consisting of his own Forza Italia party along with smaller, anti-migration right-wing parties.
But, after the shooting of six African immigrants by an Italian neo-fascist over the weekend, it was reasonable to assume that the 81-year-old would back away from the fiery anti-migrant language of his allies.

He didn't. Instead he doubled down, blasting the left-wing government for letting the immigration situation in Italy -- which has a population of 60 million -- get out of control, particularly from Libya.

'Today there are 650,000 migrants in Italy, of whom only five percent have the right to stay because they are refugees, while the others represent a social bomb ready to explode, they live on expediency and crime.'
"Today there are 650,000 migrants in Italy, of whom only 5 percent have the right to stay because they are refugees, while the others represent a social bomb ready to explode; they live on expediency and crime," he said in an interview.
The "social bomb" remark itself detonated among Italian politics and was in many ways similar to Trump's 2015 remarks about Mexican immigrants that shook American politics.
"They're bringing drugs. They're bringing crime. They're rapists. And some, I assume, are good people," Trump said when he launched his campaign in June 2015.
Additionally, Berlusconi went on to call for mass deportations and promised to "take back control" of the situation if elected.
Berlusconi's remarks were particularly controversial since the alleged gunman in the shooting, Luca Traini, had ties to the League -- one of Berlusconi's right-wing coalition allies. That shooting, in the city of Macerata, came just days after the butchering of Italian teenager Pamela Mastropietro, whose body was found in suitcases in Macerata last week. The suspect in that killing is a Nigerian immigrant.
Berlusconi's decision to ramp up the rhetoric amid heightened racial tensions came alongside similar statements from the League's leader Matteo Salvini, who had also called for mass deportations of the hundreds of thousands of people in the country illegally.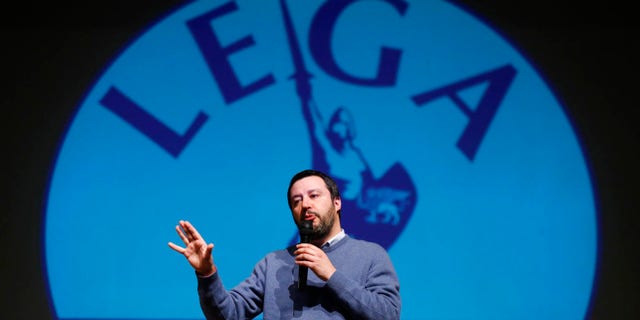 "Violence is always to be condemned," Salvini tweeted. "But I have a duty to tell Italians how to prevent incidents like those in Macerata. For example? Return the illegals."
Critics on both sides of the political spectrum were quick to attack Berlusconi's rhetoric, accusing him of stoking tensions and also of ignoring that his own role as prime minister caused the migrant crisis.
Luigi Di Maio, leading the populist 5-Star Movement, attacked Berlusconi from the right, saying he "created the social bomb of immigration by the bombing of Libya" in 2011.
"If migrants arrive in Italy it is because someone has made war in Libya and that prime minister was Berlusconi," former left-wing Prime Minister Matteo Renzi told Italy's La Repubblica.
The controversy comes with less than a month to go before Italians go to the polls. The 5-Star Movement is leading most polls, but are reluctant to form a coalition and are unlikely to be able to muster enough seats to form a government of their own.
This in turn could leave the door open to Berlusconi to play kingmaker and form a Forza Italia coalition.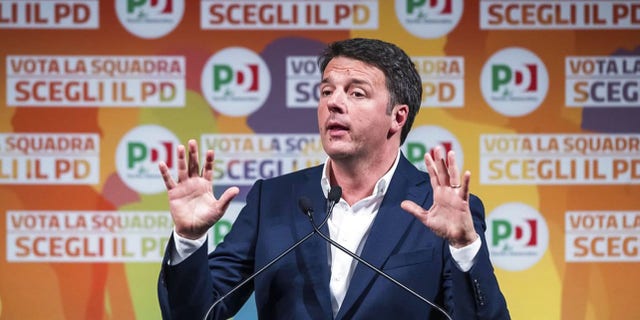 A Bloomberg analysis of polls in January found the right-wing coalition at approximately 37 percent of the vote, just a few points shy of the 40 percent required to form a government. Berlusconi may be hoping for a surge of anti-migrant sentiment to boost turnout and push his alliance over the finish line.
Should such an outcome occur, it would mark a remarkable political resurrection for the former media mogul who resigned in 2011 amid a debt crisis and was convicted of tax fraud in 2013. He is barred from holding office until 2019 as a result of that conviction.
Similar to Trump, Berlusconi has flummoxed critics by repeatedly bouncing back back from controversies -- in Berlusconi's case, a torrent of corruption and sexual scandals -- that would have buried the careers of other politicians.