Israeli PM Defends East Jerusalem Construction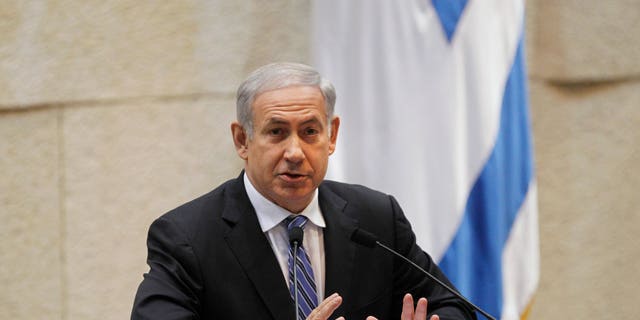 Israeli Prime Minister Benjamin Netanyahu on Wednesday defended his decision to expand construction in east Jerusalem, saying it was Israel's "right" and "duty" to build in all parts of its capital.
Late Tuesday, Netanyahu's office said 2,000 new apartments would be built in Jewish areas of east Jerusalem. Officials said the move was an Israeli response to recent unilateral steps by the Palestinians, particularly its acceptance in the U.N. cultural agency UNESCO. The Palestinians, Britain and the European Union condemned the decision to accelerate construction.
Israel captured east Jerusalem along with the West Bank from Jordan in the 1967 Mideast war. Israel subsequently annexed east Jerusalem, home to sensitive Jewish, Muslim and Christian holy sites, in a move that has not been international recognized. Palestinians claim that section of the city as their future capital.
Speaking at a special parliamentary session, Netanyahu pledged to keep building in Jerusalem and said the city has never been a capital to any other people.
"We are building in Jerusalem because it is our right and our duty to this generation and future generations, not as punishment but as the basic right of our people to build in its eternal city," he said. "Jerusalem will never return to the state it was in on the eve of the (1967) Six-Day War, that I promise you."
The projects announced by Netanyahu were not new, but he ordered they be accelerated. Such projects normally take years to complete because of planning and permit procedures and it was not clear how soon they would begin.
Netanyahu stressed that all building would take place in areas that are slated to stay part of Israel under any future peace accord.
The Palestinians demand an end to all construction in Israeli settlements before peace talks can resume. Israel rejects that as a precondition, insisting that the issue of settlements will be resolved when borders are defined through negotiations.
The announcement — and its linking to the UNESCO vote — sparked angry reactions.
"Israel has a choice between settlements and peace, between negotiations and dictation, between the past and the future," Palestinian negotiator Saeb Erekat told an academic conference at the Institute for National Security Studies in Tel Aviv. "This government has chosen the past, settlements and dictation."
At the same conference, Israeli opposition leader Tzipi Livni also slammed the announcement, saying that Israel should keep certain settlement blocs — but in the framework of a negotiated peace accord.
"The idea that now we have to build more in order to punish the Palestinians is something that I cannot understand," she said.
British Foreign Secretary William Hague also condemned the announcement, calling it a serious blow to efforts to restart peace talks.
"This settlement building program is illegal under international law and is the latest in a series of provocative and unhelpful settlement announcements," he said in a statement.
In Washington, White House spokesman Jay Carney said the Obama administration was "deeply disappointed."
Carney said "any action that either side takes that makes it harder rather than easier for the two parties to come together in direct negotiations is something that we oppose, and that would be the case here."
In another development, pro-Palestinian activists said two boats set sail Wednesday for Gaza in another attempt to breach Israel's naval blockade.
Amjad Shawwa, a spokesman for the activists in Gaza, said 27 people from nine countries are aboard the ships carrying medicine for Gaza.
Activists said the vessels left Turkey and could reach Gaza in 48 hours.
Israel imposed a sea blockade on Gaza in 2007 after Hamas militants seized control there.
Military spokeswoman Lt. Col. Avital Leibovich said the military knew about the boats and the navy is prepared to intercept them. "This is a provocation in a long line of provocations," she said, noting a recent U.N. study that found the blockade legal.
Leibovich said the activists were "more than welcome" to send aid to Gaza by land.
She said the blockade is meant to keep weapons from reaching the Islamic militants who control Gaza.
Last year, nine Turkish pro-Palestinian activists were killed in a botched Israeli raid on a similar flotilla. The incident severely damaged relations between Israel and Turkey.