Israeli group's documentary accuses Hamas of training child soldiers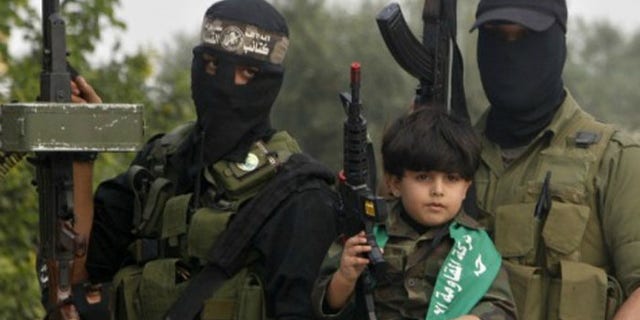 A new documentary that shows senior Hamas figures in Gaza unabashedly discussing the training of child soldiers and glorifying suicide bombers at military-style youth camps will be Exhibit A for an Israeli group at a United Nations forum in Geneva Wednesday, where it plans to make the case that the world body's relief arm is being used by terrorists.
The 11-minute documentary, called "Children's Army of Hamas" and produced by the Israel-based Center for Near East Policy Research (CNEPR), in association with the Palestinian Human Rights Monitoring Group, is aimed at showing the UN that Hamas is breaking international laws, including those barring the training of child soldiers even as it works with the United Nations Relief Works Agency for Palestinian Refugees in the Near East.
"You are the generation that is being trained to fight – although you are young. You are being trained for jihad [holy war]," senior Hamas official Khala al-Hayya is seen telling young children at a Hamas military training camp.
In another scene, Hamas Interior Minister Fathi Hamad refers to the indoctrination of children and appears to acknowledge they are being trained to do battle.
"We are strengthening their religious awareness and inducing solidarity with their country. This solidifies their jihad, and their commitment to being a warrior, a curse to Israel," Hamad declares.
"You are being trained for jihad."
According to its own 2014 figures, UNRWA received a budget of $1.32 billion from international donors, of which $409 million was donated by the U.S. alone. It runs 245 schools in Gaza, more than one-third of which were impacted in last summer's fighting between Israel and Hamas in Gaza, according to UNRWA spokesperson Christopher Gunness. Given that Hamas is in charge of Gaza, and UNRWA's website makes clear that "Schoolchildren in UNRWA schools follow the host authorities' curricula and textbooks," the film suggests that the very group training children in military camps may also be dictating what they are taught in schools.
"Hamas' relationship with UNRWA is good, very good," states Ismail Radwan, Hamas' minister of religious affairs. "The Hamas charter is part of the program we teach – insurrection, faith and education. We're preparing to liberate Palestine."
Gunness denied that UN-run schools play a role in training child soldiers.
"I am not aware of any reports of UNRWA schools being used by Hamas to do training courses," Gunness told FoxNews.com. "Our education system is entirely independent and we have a completely different schooling system. There is no question of Hamas approving anything… We're educating children after [last summer's] conflict where hundreds of thousands were displaced. One thing that distinguishes us is that we teach human rights curriculum grades 1 through to 9."
On Sunday, one UNRWA school in Khan Younis in Gaza was re-opened and 1,100 students returned to class, partly as a result of Noble Peace Prize-winner Malala Yousafzai - the Pakistani teenager and child education campaigner who was shot in the head by the Taliban for wanting to go to school - donating her $50,000 award to help fund a swift restoration of the damaged building. Rich Arab nations have pledged more than $5 billion to rebuild Gaza, but thus far only a tiny fraction of the money promised has actually been received.
"Since 2003, UNRWA schoolteachers and workers unions have been in the control of Hamas," David Bedein, producer of the documentary alleges. "Only Canada has cut back on its donations as a result of the evidence of Hamas' control. Even if Hamas is the dominant force in Gaza, UNRWA has to operate under the rules and regulations of donors. Countries such as the US, Canada, Australia, the UK, and even the EU, do not allow funds to go to a social service agency where Hamas is on staff."
"If UNRWA's money was coming from Qatar or Iran it would be very difficult to talk about the moral responsibility of the donor nations, but many of the donor nations are western democracies," Bedein concludes.
The documentary shows children as young as five or six being indoctrinated by Hamas. "We train children to use all types of weapons; machine guns, anti-aircraft [guns], tunnel training, in guerilla warfare, to fight the enemy with Allah's help," one masked military trainer explains.
"We are being trained to be mujahideen [warriors] to fight the evil Israeli presence," one boy, aged around 13, proudly says. "They conquered our land and defiled our holy sites. We'll liberate it all with Allah's mighty help."
At the end of the training camp top Hamas leader and former Gazan Prime Minister Ismail Haniyeh addresses the children. "This generation is prepared to liberate the land. It will be victorious; it will fulfil the right of return, our independence. Beware! Beware! Jews beware!" Haniyeh cries. "This generation is not afraid to confront you in your centers. This is the generation of the stones. This is the generation of the missiles! This is the generation of the tunnels! This is the generation of the suicide bombers!"
The film is expected to give the UN pause for thought at they consider Hamas' terrorist organization status and its exploitation of child soldiers. For the avoidance of doubt, and in case anyone wondered if Hamas is preparing to embark on a new direction, Hamas' Deputy Foreign Minister Ghazi Hamad clarifies, "The principles of Hamas have not changed since its inception. The principles of militancy remain as a way to end the Israeli conquest… We enforce a militant culture in Palestinian society."
Paul Alster is an Israel-based journalist. Follow him on Twitter @paul_alster and visit his website: www.paulalster.com.