ISIS militants suspected in Baghdad car bomb attacks that kill 31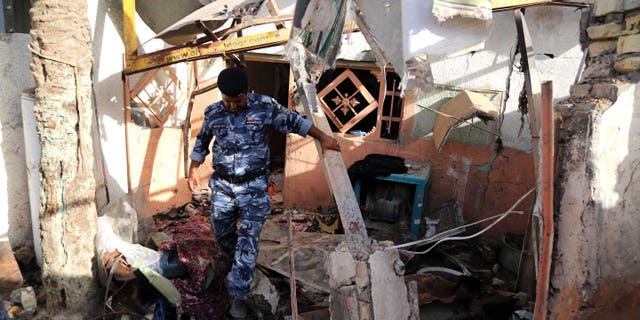 BAGHDAD – A series of vehicle bombings in Iraq killed at least 31 people Friday, officials said, in the second straight day of attacks in Baghdad blamed on Islamic militants who have seized large parts of the country.
A parked explosives-packed car detonated shortly before midday prayers near the al-Mubarak mosque in the Iraqi capital's mostly Shiite central district of Karradah, killing nine people and wounding 18 others, police said.
Cars later exploded in two outdoor markets, one in the Shiite suburb of Nahrawan and the other in the Shiite district of Bayaa. Those attacks together killed nine people and wounded 23, according to police. Just south of Baghdad, yet another car bomb went off in a parking lot in the town of Mahmoudiyah, killing three and wounding 10, police said.
Medical officials confirmed the casualty tolls. All officials spoke on condition of anonymity because they were not authorized to brief the media.
While most of the attacks happened in the Iraqi capital, the day's deadliest occurred in the northern city of Kirkuk, when a motorcycle bomb went off near a gun shop, killing 10 people and wounding 14, said provincial police chief Brig. Gen. Jamal Tahir Bakir.
Friday's attacks came a day after a series of deadly attacks in mainly Shiite areas in and around Baghdad that left dozens dead.
The coordinated nature and style of the attacks strongly suggested they were the work of the Islamic State extremist group. It considers Shiites heretics and has captured large chunks of territory in western and northern Iraq, plunging the country into its worst crisis since U.S. troops left at the end of 2011. U.S. warplanes have been carrying out airstrikes against the group as Iraqi and Kurdish security forces work to retake territory it has seized.
U.S. Central Command said Thursday that the military has carried out 176 airstrikes in Iraq since Aug. 8. France said it also has joined American forces in military action in Iraq by conducting its first airstrikes Friday against the militant Islamic State group, destroying a logistics depot that it controlled.
Meanwhile, the Sunni militant group said it has established a police force to assert law and order in the northern Iraqi city of Mosul, which it seized in June. Iraqi security forces effectively collapsed as the extremists advanced and captured the city and other towns in northern Iraq earlier this year.
"The Islamic State has restored the Islamic police system and has assigned hundreds of mujahedeen to protect the Muslims and their properties," the group said in a statement issued Friday. The authenticity of the statement could not be verified, but it was posted on a website frequently used by the group.