ISIS burns oil wells as Iraq troops push toward outskirts of Tikrit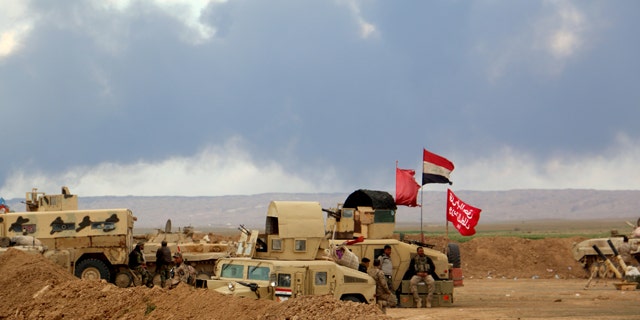 Iraqi troops pushed toward the outskirts of Tikrit in their offensive aimed at re-taking control of the town from ISIS militants Friday, as the terror group reportedly burned oil wells outside the city.
The The governor of Salahuddin, Raed al-Jabouri, said that Iraqi forces, backed by allied Shiite militas, expected to reach Tikrit later Friday. He told The Associated Press they still have not made it to Tikrit's east airport as some reports have suggested.
Tikrit, the hometown of Saddam Hussein located 80 miles north of Baghdad, has been under ISIS control since June, when the Sunni militants made a lightning advance across northern Iraq, prompting Iraqi troops to flee and abandon their weapons.
On Monday, Iraqi security forces launched a large-scale operation in an effort to retake the city from the militant group, but the offensive had stalled somewhat, with military officials saying the militants strategically lined roads leading to the city with explosives and land mines.
On Thursday, ISIS militants set fire to some oil wells outside Tikrit, an Iraqi oil official said, speaking on condition of anonymity as he was not authorized to talk to the media. The smoky fires were apparently meant to obscure targets from government bombing runs, part of the wide-scale operation that began Monday.
The Ajeel oil field, about 22 miles northeast of Tikrit, was one of at least four fields seized by the militants as a source of crude oil to sell to smugglers to finance their operations.
The Associated Press contributed to this report.