Iranian president accuses Western media of double standard in death penalty cases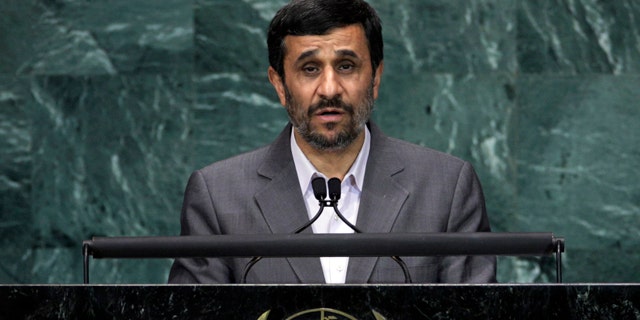 TEHRAN, Iran – TEHRAN, Iran (AP) — Iranian President Mahmoud Ahmadinejad has criticized Western media for having a double standard in reporting on the case of an American woman facing the death penalty, a news agency reported Tuesday.
Ahmadinejad accused the West of launching a "heavy propaganda" campaign against the case of an Iranian woman who had been sentenced to be stoned to death for adultery but failing to react with outrage over the imminent execution of Teresa Lewis in Virginia, according to state-run IRNA. Iran
Lewis is a Virginia woman due to be put to death by injection on Thursday for using sex and money to persuade two men to kill her husband and her stepson to collect on life insurance policies. She would be the first woman executed in Virginia in nearly a century, and the first U.S. execution of a woman in five years.
Ahmadinejad noted that "millions of Internet pages" have been devoted to Sakineh Mohammadi Ashtiani, whose stoning sentence was suspended in July and her case put under review.
"Meanwhile, nobody objects to the case of an American woman who is going to be executed," he was quoted as saying during a speech Monday to Islamic clerics and other figures in New York, where the Iranian leader is attending the U.N. General Assembly.
"Today Western media are propaganda agents who continuously speak about democracy and human rights though their slogans are sheer lies," he added.
Ahmadinejad's remarks were the latest in a series of statements by Iranian officials denouncing the wave of international condemnation of Ashtiani's case, which has cast a harsh light on Iran's version of Islamic justice.
Press TV, the government's main English-language broadcast arm, also broadcast reports about the case with a photo of Lewis throughout the day.
Human Rights Watch says Ashtiani, 43 and a mother of two, was first convicted in May 2006 of having an "illicit relationship" with two men following the death of her husband and was sentenced by a court to 99 lashes. Later that year she was also convicted of adultery and sentenced to be stoned, even though she retracted a confession which she claims was made under duress.
Iran says it has put the stoning on hold for now also has indicated Ashtiani could be hanged for her conviction of playing a role in her husband's 2005 murder.
Stoning was widely imposed in the years after the 1979 Islamic revolution, and even though Iran's judiciary still regularly hands down such sentences, they are often converted to other punishments.
The last known stoning was carried out in 2007, although the government rarely confirms that such punishments have been meted out.