Iran releases footage allegedly extracted from US drone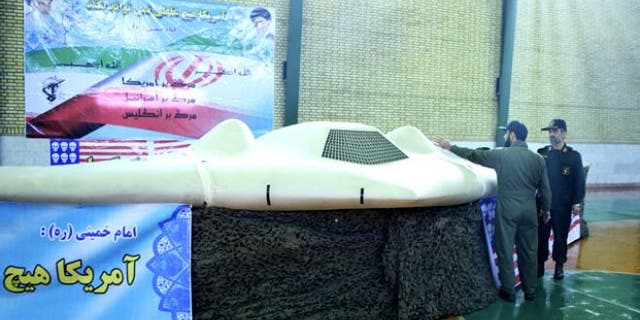 Iran says it has broadcast footage on state TV allegedly extracted from a CIA drone captured in 2011 after it entered Iranian airspace near the Afghan-Iran border.
The video aired late Wednesday on Iranian shows an aerial view of an airport and a city, said to be a U.S. drone base and Kandahar, Afghanistan. The TV also showed images purported to be the Sentinel landing at a base in eastern Iran but it was unclear if that footage meant to depict the moment of the drone's seizure.
The TV also showed images purported to be the Sentinel landing at a base in eastern Iran.
""We aren't able to confirm the authenticity of the video," a spokesman from the Department of Defense told Fox News.
"As you know, we don't provide details regarding matters of intelligence."
Iran has long claimed it managed to reverse-engineer the RQ-170 Sentinel, seized in December 2011 after it entered Iranian airspace from its eastern border with Afghanistan, and that it's capable of launching its own production line for the unmanned aircraft.
After initially saying only that a drone had been lost near the Afghan-Iran border, American officials eventually confirmed the Sentinel had been monitoring Iran's military and nuclear facilities. Washington asked for it back but Iran refused, and instead released photos of Iranian officials studying the aircraft.
In another part of the video, the chief of the Revolutionary Guard's airspace division, Gen. Amir Ali Hajizadeh, said that only after capturing the drone, Iran realized it "belongs to the CIA."
"We were able to definitively access the data of the drone, once we brought it down," said Hajizadeh.
He described the Sentinel's capture as a huge scoop for Iran, saying that at the time, Tehran did not rule out a possible punitive U.S. airstrike over the drone.
In addition, the TV also showed images of an Iranian helicopter transporting the drone, as well as its disassembled parts being carried on a trailer.
In November, Iran claimed that the U.S. drone had violated its airspace. The Pentagon said the aircraft, which came under fire but was not hit, was over international waters.
In an attempt to embarrass Washington, Iran has also claimed to have captured several American drones, most recently in December, when Tehran said it seized a Boeing-designed ScanEagle drone — a less sophisticated aircraft — after it entered Iranian airspace over the Persian Gulf.
U.S. officials said there was no evidence that the latest claims were true.
Also Thursday, the semi-official Fars news agency published photos reportedly depicting a domestic production line of ScanEagle drones. The photos show several drones in a workshop.
Iran has said before that it's making ScanEagle copies and putting them into service, but has not offered proof for those claims.
Fars also quoted deputy defense minister, Mohammad Eslami, as saying that Iran has also established a "production line for the drones in foreign countries." He did not elaborate, and it was not clear if he was referring to Syria or Lebanon's Hezbollah group, Iran's top regional allies.
The drone capture has further escalated tensions between the U.S. and Iran, which is under international sanctions over its suspect nuclear program.
The U.S and its allies believe Iran is pursuing a nuclear weapon. Iran has repeatedly denied the charge, claiming its nuclear activities are for peaceful purposes only, such as power generation and cancer treatment.
The latest Sentinel footage came as the U.S. tightened sanctions to pressure the Iranian government to limit its nuclear program and restrictions on institutions that Washington says are stifling political dissent and censoring speech.
Among the expanded measures announced Monday by the Treasury Department is a move to deny Iran access to revenue garnered from its oil exports. Under the latest sanctions, Iran would only be able to use revenue from its oil sales in a country that purchased its crude -- now mostly big Asian economies such as China and India -- which would significantly limit its access to the money.
Iran's supreme leader Ayatollah Ali Khamenei on Thursday rejected proposals for direct talks with United States over its nuclear program, marking the first reaction to the proposals for the one-on-one talks.
Iran and six world powers, including the U.S., are scheduled to resume nuclear negotiations later this month.
The Associated Press and Reuters contributed to this report.