Indicted Sudanese president visits Kenya, defies arrest warrant on genocide charges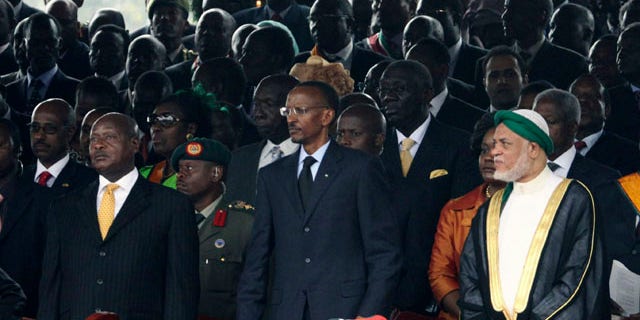 NAIROBI, Kenya – NAIROBI, Kenya (AP) — Sudan's president defied an international arrest warrant by visiting Kenya on Friday, causing an outcry from the International Criminal Court which fruitlessly pressured authorities here into arresting the man accused of masterminding the genocide in Darfur.
Rather than arrest Sudanese President Omar al-Bashir, who was invited along with other regional leaders for the signing of Kenya's new constitution, officials here treated him with the dignity accorded a head of state. Wearing a dark suit and tie, al-Bashir had a front-row position for the historic ceremony.
The ICC has no police force and depends on member states to enforce its orders. Al-Bashir's presence in Kenya underscored that the system to bring the world's worst human rights violators to justice depends on member states and raised doubts about Kenya's willingness to hand over suspects expected to soon be charged by the ICC for postelection violence that left more than 1,000 Kenyans dead in 2007-08.
Al-Bashir was charged in March 2009 with five counts of crimes against humanity and two of war crimes for allegedly orchestrating atrocities in Darfur, a region of Sudan. In July, the ICC charged him with three counts of genocide, the first time the world's first permanent war crimes tribunal has issued genocide charges.
Darfur's ethnic African rebels rose up in 2003, accusing Sudan's Arab-dominated central government of neglect and discrimination. U.N. officials estimated 300,000 people died and 2.7 million were displaced.
In The Hague, Netherlands, where the ICC is based, the judges said in a written order that Kenya "has a clear obligation to cooperate" in enforcing arrest warrants. The court also ordered its registrar to inform the U.N. Security Council of al-Bashir's presence in Kenya "in order for them to take any measure they may deem appropriate."
"His presence there is a slap on the souls of the victims of the genocide in Darfur," said Ahmed Hussain Adam, spokesman for the Justice and Equality Movement, the most powerful rebel group in Darfur.
President Barack Obama said he was disappointed at the presence of al-Bashir, saying in a statement "we consider it important that Kenya honor its commitments to the ICC and to international justice, along with all nations that share those responsibilities."
Kenyan Foreign Affairs Minister Moses Wetangula defended the invitation, saying al-Bashir is the "head of state of a friendly neighbor state."
Al-Bashir later skipped out on a state luncheon hosted by the Kenyan president. Earlier this year, he traveled to Chad, another ICC member state that also opted not to apprehend him.
Wetangula argued that Kenya did not act on the ICC warrant because the African Union has decided no member should arrest the Sudanese leader. Other AU members such as South Africa, though, have indicated that they would arrest al-Bashir if he visited their countries.
Al-Bashir's stop in Kenya was kept under wraps until the last minute. A schedule of heads of state sent out Thursday evening indicated that Sudan would be represented by the country's first vice president.
Al-Bashir is the first sitting head of state indicted by the world's first permanent war crimes tribunal since it was established in 2002. He refuses to recognize the court's jurisdiction.
While the Kenya trip only marked only his second trip to an ICC member state, al-Bashir has visited Ethiopia, Eritrea, Egypt and Libya, attended an Arab League summit in Qatar and performed a pilgrimage to Islam's holiest city, Mecca, in Saudi Arabia.
A top Kenyan human rights activist, Njonjo Mue, said al-Bashir's visit should worry those seeking justice for Kenya's spasm of violence more than two years ago.
"If Kenya cannot arrest and transfer al-Bashir, it is unlikely it will arrest and transfer its top politicians and businessmen who may be indicted," Mue, the head of the Kenya chapter of the International Center for Transitional Justice, told The Associated Press.
ICC prosecutor Luis Moreno Ocampo has said he believes that crimes against humanity were committed during the violence after Kenya's 2007 election. He has said he expects the investigation to conclude by the end of this year, culminating in charges against up to roughly a half-dozen people who allegedly directed the violence.
___
Larson reported from Johannesburg. Associated Press writers Mike Corder in The Hague, Netherlands and Tom Maliti in Nairobi also contributed to this report.
___
Online:
International Criminal Court member states: http://www.icc-cpi.int/Menus/ASP/states+parties/