India June car sales slide, industry seeks aid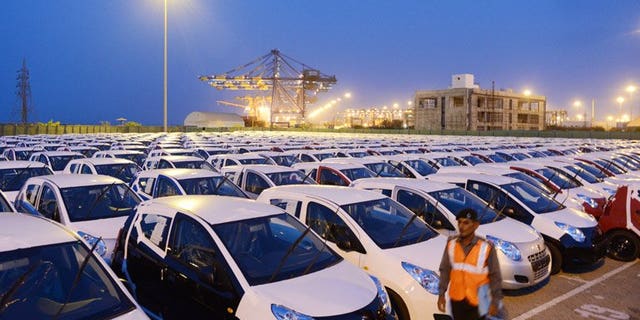 NEW DELHI (AFP) – India's car sales slid nine percent in June, marking a record eighth straight month of decline, data showed Friday, as the industry demanded a government package to revive the once booming sector.
Carmakers sold 139,632 cars in India last month, down from 153,450 units in the same month of 2012, the Society of Indian Automobile Manufacturers (SIAM) said, with slow economic growth and high borrowing costs deterring buyers.
Demand has fallen for an unprecedented eight months in a row in car market, seen as an important guide to overall economic vitality.
"The industry is facing big problems -- we need a revival package from the government" that includes reductions in excise duties on cars and commercial vehicles, SIAM director general Vishnu Mathur told AFP.
He said there was "no way" sales will meet the three-to-five percent target that SIAM initially projected for this financial year to March 2014 but declined to set a new figure.
The downturn is in sharp contrast to the previous decade when car sales grew by 20 to 30 percent -- prompting foreign automakers from Ford to Volkswagen to make a beeline for the country as they sought to boost sales globally.
Indian car sales are shrinking as China's sales in the first half of the year climbed 12.3 percent year-on-year to 10.78 million, official data showed.
"This is certainly the worst period I have seen in a long time," R.C. Bhargava, chairman of Japanese-controlled Maruti Suzuki, the country's largest carmaker, told the Economic Times in an interview published Friday.
Stuttering demand has forced automakers to introduce interest-free repayments and double-digit discounts while top vehicle firms such as Maruti and Mahindra and Mahindra have been reducing production.
Total bus and truck sales -- another important economic barometer -- fell 13.45 percent to 56,197 units, SIAM said, while sales of motorcycles -- the most popular form of personal transport -- fell nine percent.
A fall in India's currency to record lows against the dollar has cast doubt over hopes the central bank can cut interest rates soon to kickstart the economy which grew at a decade-low of five percent last year.
The declining rupee is already prompting manufacturers to raise car prices with material costs rising, deterring buyers further.
Domestic passenger car sales fell by 6.7 percent last year 1.89 million from a year earlier -- the first contraction for 10 years.
Mathur said one upbeat sign is that the annual monsoon rains, vital to India's food output and economic growth, have been normal which should boost rural incomes and translate into better vehicle sales.