Humberto strengthens into hurricane, may bring heavy rain to Bermuda
The third hurricane of the Atlantic hurricane season was strengthening at sea Monday ahead of the potentially dangerous rip currents it's likely to bring to the Southeast coast -- which may be the only direct threat to the U.S. posed by the storm before it's set to turn away from the mainland for good.
The National Hurricane Center in Miami said Hurricane Humberto is located about 650 miles west of Bermuda with maximum sustained winds of 85 mph, and is moving northeast at 5 mph.
"This is expected to strengthen but the good news, my friends, is it's going to remain offshore." Fox News Senior Meteorologist Janice Dean said on "Fox & Friends." "We're going to see some indirect impacts like rip currents and certainly large waves and beach erosion."
TROPICAL STORM HUMBERTO FORECAST TO BECOME HURRICANE, BRING DANGEROUS RIP CURRENTS AS IT MAY IMPACT BERMUDA
Humberto is forecast to make a turn to the east-northeast by late Monday, with a gradual increase in forecast speed through Thursday. Forecasts say Humberto's center is forecast to approach Bermuda by late Wednesday or Wednesday night.
"Interests in and around Bermuda should monitor the progress of Humberto," the NHC said.
The storm is also forecast to strengthen during the next couple of days, possibly into a Category 2 storm with 110 mph winds as it nears Bermuda.
Hurricane-force winds extend outward up to 30 miles from the center of the storm, while tropical-storm-force winds extend outward up to 150 miles.
HUMBERTO DUMPS MORE RAIN ON DORIAN-BATTERED BAHAMAS
Humberto may bring periods of heavy rain to Bermuda beginning late Wednesday or Thursday. The storm's outer rain bands may bring additional rainfall to the northeast Bahamas, which were devastated by Hurricane Dorian earlier this month.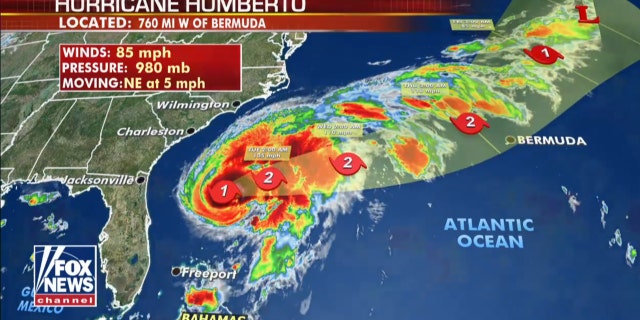 While the storm isn't making a direct impact on the U.S., forecasters warn that swells generated by the storm will affect the southeast coast from east-central Florida to North Carolina during the next few days.
"These swells could cause life-threatening surf and rip current conditions," the NHC said.
CLICK HERE FOR THE FOX NEWS APP
Humberto is the eighth named storm and third hurricane of the 2019 Atlantic hurricane season.
The National Oceanic and Atmospheric Administration has said it expects 10-17 named storms this hurricane season, with winds of 39 mph or higher, of which five to nine could strengthen into hurricanes. Of those storms, there will be two to four major hurricanes, which are classified as Category 3, 4, and 5 with winds of 111 mph or higher.
The 2019 Atlantic Hurricane Season runs from June 1 to Nov. 30, and this year includes the names: Andrea, Barry, Chantal, Dorian, Erin, Fernand, Gabrielle, Humberto, Imelda, Jerry, Karen, Lorenzo, Melissa, Nestor, Olga, Pablo, Rebekah, Sebastien, Tanya, Van, and Wendy.