Hernandez Galicia, once-feared boss of Mexico's powerful oil workers union, dies at age 91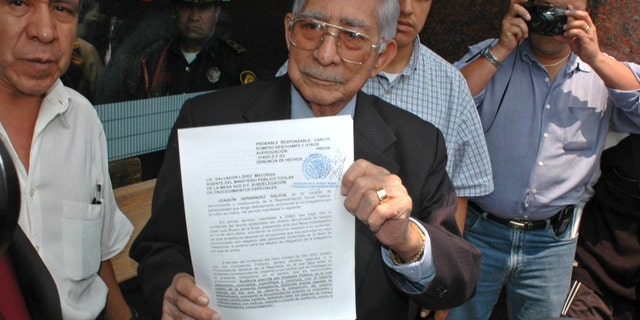 MEXICO CITY – Joaquin Hernandez Galicia, the once-feared boss of Mexico's powerful oil workers union, died Monday at age 91, his sons said.
Hernandez died after spending several days in a hospital in the northern city of Tampico for stomach problems, said his son Juan Manuel Hernandez Correa.
"Because of his advanced age he couldn't hold on," the son said.
Hernandez spent nearly nine years in prison after troops stormed his home and arrested him on manslaughter and weapons charges in 1989 in what the government described as a crackdown on corruption.
Hernandez was an old-style labor leader who became one of Mexico's most powerful and wealthiest men through patronage and strong-arm tactics.
But he ran afoul of newly elected President Carlos Salinas de Gortari. Hernandez's arrest was seen as bolstering the new president's power, but Amnesty International considered him a political prisoner.
A former welder, Hernandez led more than 150,000 oil workers at the apex of his 30-year climb to power. His union was a bedrock of support for the Institutional Revolutionary Party, filling campaign rallies and organizing voter turnout.
He controlled oil jobs and lucrative drilling contracts, construction companies, funeral parlors and ranches.
In 1988, he criticized Salinas' presidential candidacy and threatened a strike by oil workers if Salinas privatized any part of the government oil monopoly, Petroleos Mexicanos, or Pemex.
On Jan. 10, 1989, about a month after Salinas took office, soldiers used a bazooka to blow down the door of Hernandez's home in the Gulf coast city of Ciudad Madero. Troops allegedly found hundreds of weapons illegally stockpiled in the house.