Hamas drops call for Israel's destruction, but old goals remain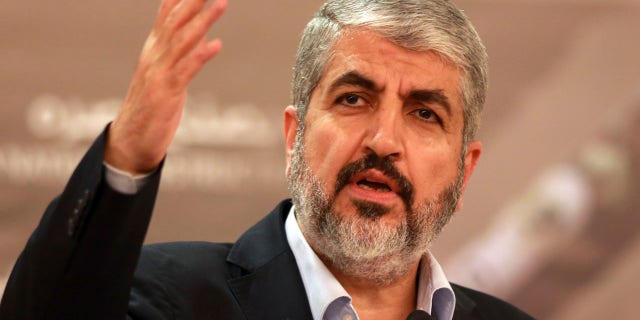 The Islamic militant group Hamas unveiled a new political program Monday that aims to end the group's international isolation while refusing to recognize Israel as a state.
While the new manifesto does not deliberately call for the destruction of Israel, Hamas has still vowed to fulfill their goal of eventually "liberating" all of historic Palestine, which includes territories that are a part of present day Israel.
In what seems like an effort to rebrand, Hamas failed to reposition itself on hardline positions that led to its isolation in the first place.
The group reaffirmed that it will not recognize Israel, renounce violence or recognize previous interim Israeli-Palestinian peace deals — the West's long-standing conditions for dealing with Hamas.
U.S. and Israeli officials said they didn't see the move as a real change in the approach of Hamas, which has been designated a terrorist organization by the U.S. and other Western governments.
"Hamas is attempting to fool the world but it will not succeed," said David Keyes, spokesman for Israeli Prime Minister Benjamin Netanyahu. "Daily, Hamas leaders call for genocide of all Jews and the destruction of Israel."
The announcement comes just as President Donald Trump is scheduled to hold talks with Mahmoud Abbas, president of the rival Palestinian Authority that controls the West Bank, in an effort to restart Israeli-Palestinian peace talks, the Wall Street Journal reports.
Hamas drove out forces loyal to Abbas in its 2007 takeover of Gaza, a year after defeating Fatah in Palestinian parliament elections. Reconciliation efforts have failed.
The five-page program, a result of four years of internal deliberations, was presented at a news conference in Doha, Qatar, by Khaled Mashaal, the outgoing Hamas leader in exile.
The document reflects a "reasonable Hamas, that is serious about dealing with the reality and the regional and international surroundings, while still representing the cause of its people," said Mashaal.
It also attempts to cut off any connection to the Muslim Brotherhood from which many say Hamas evolved from.
In the original charter drafted in 1988, a year after its founding, Hamas called for the destruction of Israel and the Palestinian takeover of all Israeli territory.
The Associated Press contributed to this report.