Gunmen kill patients, demand medical miracles as street crime spills into Venezuelan hospitals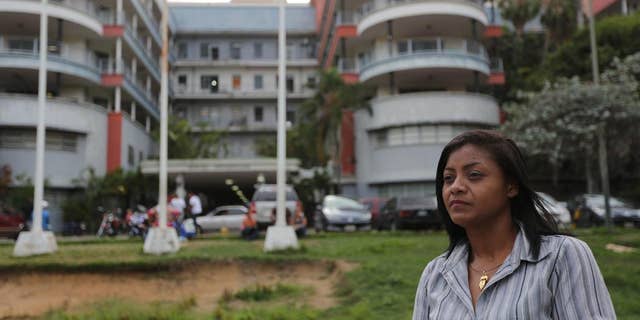 CARACAS, Venezuela – At first, the operating room doctors thought the quiet man in jeans was a distressed family member. One shouted at him to leave as another fought to save the gunshot patient unconscious on the table.
The anesthesiologist was the first to see the man's gun. He dove to the ground, and then listened as dozens of shots rang out, thinking, "So this is how I die."
For years, hospitals were one of the few safe havens in this mind-bogglingly violent Latin American country.
No longer. The emergency room murder of a 27-year-old patient by the very gang member who allegedly put him there in the first place is one of a string of recent attacks and ugly confrontations that have shattered physicians' sense of security.
"It's a scandal, to kill someone inside a hospital. It's complete social deterioration," said Jose Manuel Olivares, an oncology resident at the University Hospital of Caracas, where Edinson Balsa was slain in June along with his brother, who was waiting in the hallway. "It was never perfect, but they used to respect some boundaries."
Physicians say men now regularly enter emergency rooms waving guns to compel doctors to work miracles on injured companions or provide scarce medicine. In some cases, they go further.
Earlier this year, a man stole into an intensive care unit in the city of Maracaibo, on Venezuela's western edge, to finish the job of killing a gunshot patient, according to the local press.
Two weeks after the brothers were murdered in Caracas, another man allegedly involved in street crime was killed in a hospital across town.
Conditions are worst in the countryside. In the small town of Rio Chico, an hour and a half east of Caracas, the main hospital now has a safe room where doctors can hide when armed friends and enemies of patients storm through, medical resident Pedro Blanco said.
A turning point came last fall, when armed gangs took control of a hospital near one of the city's slums on consecutive days, demanding medical attention for wounded comrades, one of whom arrived already dead from a gunshot to the head.
Doctors say the crisis of violence in emergency rooms stems from a growing culture of impunity. Independent analysts report that more than 90 percent of homicides go unsolved here, compared to about 35 percent in the US.
The United Nations ranks Venezuela as the world's second most dangerous country outside a war zone, after Honduras, even using widely questioned official statistics. Non-governmental groups calculate that Venezuela, a country slightly more populous than Texas, sees more killings each year than the U.S. and the European Union combined.
At University Hospital, a sprawling, poorly maintained building that resembles a noisy bus station, guards still go unarmed, there is no surveillance system and a worn sign reading "No entrance" is the only thing stopping a person from walking into the operating area. Security workers say they would run if confronted by an armed intruder. Without guns, they joked, they have only one tool: their legs.
Cardiologist Nelson Majano works at the safest public hospital in the country, the Caracas military hospital. A bodybuilder with a shaved head who dares to go out at night wearing a gold chain, Majano said he wouldn't want to work at an institution without armed guards. Thugs trying to enter the emergency room get into scuffles at his hospital's entrance every month or so, he estimated.
"As the impunity grows, they're starting to think they can come into the hospitals and do what they like. And they're mostly right," he said.
The Ministry of Health declined to comment.
Most of Venezuela's doctors trained when the oil nation was relatively prosperous and Caracas was a chic, cosmopolitan city. The possibility of workplace violence has become another worry piled on top of a heap of concerns they never expected, including shortages of critical medical supplies, eroding salaries, and petty theft that makes them hesitant to check their cellphones in the hall.
More than half of the nation's doctors have moved away since the late President Hugo Chavez won power in 1999, according to the Medical Federation of Venezuela.
"The people who stay here are brave, or poor," said Blanco, the medical resident.
For Carmen Bolivar, a University Hospital nurse who in June stood paralyzed by fear next to the patient's brother as the gunman advanced on them, work has become a daily trial.
"This hospital used to be my home. Now I leave as soon as I finish my shift," she said.
The anesthesiologist for that case, who declined to give his name because the man who killed his patient remains at large, said he takes every precaution to stay safe. A single father, he doesn't go to parties or leave home after 7 p.m.
But in the high-stakes environment of an emergency operating room, doctors cannot afford to think of anything but the person on the table. That's why he worked for 23 hours straight after witnessing the slaying.
Asked why he and the other half-dozen physicians in the operating room didn't try to protect their patient, he shook his head and gave a refrain increasingly heard across Venezuelan society:
The guy had a gun; there was nothing to be done.
___
Hannah Dreier on Twitter: https://twitter.com/hannahdreier