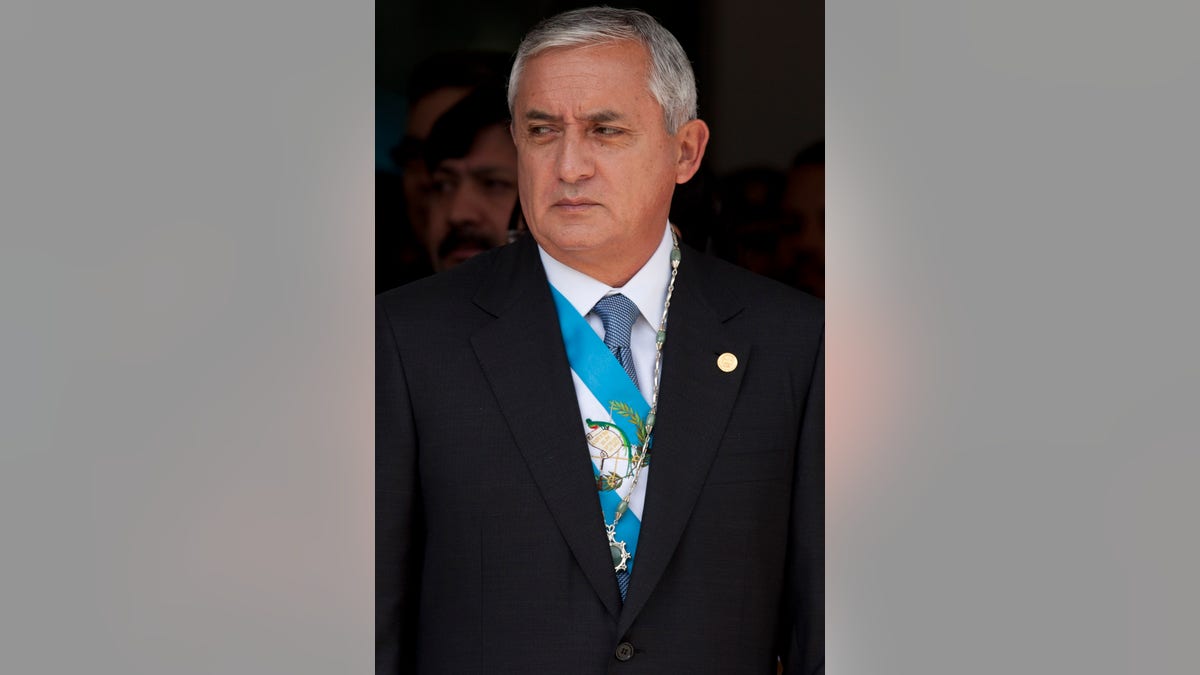 GUATEMALA CITY – Guatemala's struggle to deal with the war crimes of the past, including bringing an aging former dictator and his officers to justice, has taken a sharp turn to the present.
A mechanic testifying at the genocide trial of ex-strongman Efrain Rios Montt, now 86, became the first person to directly accuse current President Otto Perez Molina of ordering pillaging and executions in the 36-year civil war, which killed a total of 200,000, mostly indigenous Maya.
Such rumors and accusations had surfaced about Perez before, but without proof or formal charges. He has called Thursday's testimony "lies."
But the national talk continued Monday, four days after Hugo Reyes told a stunned courtroom: "The soldiers, on orders from Major 'Tito Arias,' better known as Otto Perez Molina ... coordinated the burning and looting, in order to later execute people."
Prosecutor Orlando Lopez said Reyes' testimony is 100 percent credible, but he has to study the accusations before he can say whether they would result in criminal action against Perez.
"Right now I'm focused on the Rios Montt case," Lopez said Monday. "I don't know what will happen after that."
Perez said he researched Reyes' record with the Defense Ministry and the mechanic wasn't in Nebaj, the base in western Quiche state where soldiers operated at the same time as Perez.
"I have nothing to hide. I did not participate in a single situation where someone died that was my responsibility," Perez told reporters on Friday. "I'm not going to deny that I was in Nebaj; it's true. But I was there to rescue the civilians, combat the armed guerrillas and help the civilians."
The testimony is shaking up Guatemala's attempts to settle its past. A U.N. truth commission said state forces and related paramilitary groups were responsible for 93 percent of the killings and human rights violations that it documented. Yet until now, only low or middle-level officials have been prosecuted for a war that ended in 1996.
Rios Montt is the biggest by far, on trial along with his former head of intelligence, Jose Sanchez, in connection with the deaths of 1,771 Mayan Indians during the military dictatorship he headed from March 23, 1982, to Aug. 8, 1983, during which he led a U.S.-backed counterinsurgency against guerrillas.
Perez, who retired as a general, made his military career as an intelligence specialist, one of the most influential sections of the army. He helped negotiate the 1996 peace accords and emerged as one of the moderate military leaders. He easily won the presidency in late 2011 from voters tired of the lack of law and order in a country run by gangs and drug traffickers, and has long insisted there was no genocide.
His election more than a year ago was criticized at the time as a return to the military rule of Guatemala's past. But Perez has since been credited with not standing in the way of efforts to prosecute accused leaders such as Rios Montt, the first former president in Latin America to be tried on genocide charges.
But now the testimony is leading to him.
"This is the second time the name of Otto Perez Molina has come up in the courts," Guatemalan Nobel Peace laureate Rigoberta Menchu said Monday, noting that the first time was in a Spanish National Court in another case against Rios Montt. "It's important that the courts see all the evidence, judge the reality and determine what happened ... that the executive branch doesn't interfere just because the president is linked to the process."
Reyes, 47, who says he was a mechanic in an engineering brigade in the area where atrocities were carried out, told the court that Perez, then an army major, ordered soldiers to burn and pillage during Guatemala's war with leftist guerrillas in the 1980s.
He said he knew the top commanders because of his work in maintenance in Nebaj.
Perez wrote in a 2000 opinion piece for the Guatemalan newspaper Prensa Libre that he used the nickname "Tito."
He wrote in that column that as a major he arrived in Nebaj in 1982 and spent nearly a year there, "an experience that left an inerasable fingerprint on my personal and professional life." Perez said he was the commander of a team fighting in the Ixil Triangle as part of the Task Force Gumarkaaj.
According to prosecutors, the task force acted on plans set out by military leadership that included orders to attack and remove "noncombatant civilian populations." Court documents say that all Maya Ixil were declared internal enemies.
Perez is also named in documents pertaining to "Operation Sofia," a report from the field to military superiors about soldiers' actions at the time. His name is handwritten on one page. The Rios Montt defense has said the documents are not original and therefore not valid.
The Defense Ministry said that during Rios Montt's government, Perez was an outstanding staff officer at a military institute and a battalion commander in an entirely different part of the country.
Reyes testified that soldiers tortured and executed the Ixil believed to be guerrillas. He said that women, children and the elderly were among the executed. He claimed that sometimes the soldiers would throw the victims' babies alive into the mass graves and bury them with their dead mothers.
Dozens of victims have testified since the trial started March 19 of surviving rapes, massacres and other atrocities.
The military offensives were part of a brutal, decades-long counterinsurgency against a leftist uprising that brought massacres in the Mayan heartland where the guerrillas were based.
The Rios Montt trial already is transcendental for Guatemala, said Marcie Mersky, director of the New York-based International Center for Transitional Justice.
"This is the first time we have encountered a genuine trial under due process of international law," said Mersky, who is attending the trial.
Guatemalan human rights activist Helen Mack said people need to keep in mind that this trial is against Rios Montt.
"But new information has come out, and the court needs to determine if there is sufficient evidence to open an investigation," Mack said. "They have to determine where Otto Perez Molina was in the chain of command to determine if he was effectively responsible."