Good News, Bad News: Unemployment Lowest Since Oct. 2008, But Economy Slowing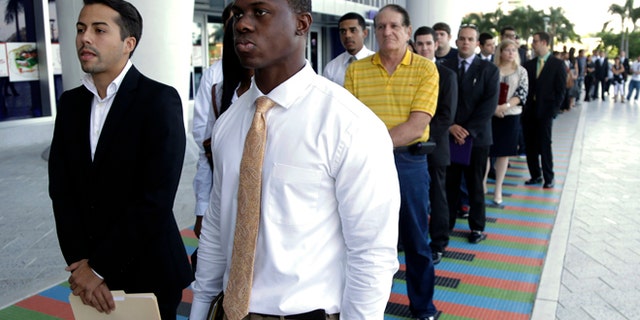 Hiring was surprisingly weak in January for a second straight month, likely renewing concern that the U.S. economy might be slowing after a strong finish last year.
Employers added 113,000 jobs, the government said Friday, far fewer than the average monthly gain of 194,000 last year. Job gains have averaged just 154,000 the past three months, down from 201,000 in the preceding three.
The sluggish job growth may reflect what investors and economists have begun to fear: That the U.S. job market is weakening again, along with sectors like manufacturing and retail sales in the United States and abroad. The weakness might also raise doubts about the Federal Reserve's plans to steadily reduce its economic stimulus this year.
Still, more people began looking for work in January, a sign that they were optimistic about finding work. Some of these people found jobs, thereby reducing the unemployment rate to 6.6 percent from 6.7 percent in December. That's the lowest rate since October 2008.
The unemployment rate and new hiring numbers are actually calculated using different surveys. Unemployment is based on a smaller survey of households, and the numbers produced don't always match up with payroll job counts that come from a survey of employers.
Looking just at the household survey, the employment picture for January looked considerably brighter. Unlike previous months, workers did not drop out of the labor force.
Generally, however, analysts put more weight on the larger survey of payroll job changes. By that measure, the economy and jobs recovery have slowed down again in the last two months.
Soon after the payroll report was released at 8:30 a.m. Eastern time, investors pulled back from stocks and shifted into safer U.S. bonds, sending bonds yields sharply lower. But then stock futures rose back above the levels where they had traded before the news. And the yield on the 10-year Treasury crept back toward its earlier level.
Cold weather likely held back hiring in December, economists said, though the impact faded in January. Construction firms, which sometimes stop work in bad weather, added 48,000 jobs last month.
Signs of economic weakness in the United States and overseas have sent stock prices sinking. Upheaval in developing countries has further spooked investors.
The anxiety marks a reversal from a few weeks ago, when most analysts were increasingly hopeful about the global economy. U.S. growth came in at a sturdy 3.7 percent annual pace in the second half of last year. The Dow Jones industrial average finished 2013 at a record high. Europe's economy was slowly emerging from a long recession. Japan was finally perking up after two decades of stagnation.
But then came December's weak jobs total. And on Monday, an industry survey found that manufacturing grew much more slowly in January than in December. A measure of new orders in the report sank to the lowest level in a year. That report contributed to a dizzying 326-point plunge in the Dow Jones industrial average.
Also this week, automakers said sales slipped 3 percent in January. And last week, a measure of signed contracts to buy homes fell sharply, according to the National Association of Realtors.
On a more hopeful note, a survey of service sector companies including retailers, banks and restaurants – a segment of the economy in which Latinos are generally employed at higher rates – found that they grew faster in January than in December.
Friday's report showed that some higher-paying industries added jobs in January. Factories created 21,000 new positions. Professional and technical services, which includes architects and engineers, added 20,000.
But health care employment was mostly unchanged for a second straight month, after adding 17,000 jobs a month last year. And retailers cut 12,900 jobs, the most in 18 months.
And government shed 29,000 jobs, mostly in education and the Postal Service.
Temporary-help businesses, frequently seen as a sign of future permanent hirings, added a net 8,100 jobs in January.
Average hourly earnings rose 5 cents to $24.21, the report said. Average hourly pay has increased 1.9 percent in the past year, slightly ahead of the 1.5 percent inflation rate.
Based on reporting by The Associated Press.
Follow us on twitter.com/foxnewslatino
Like us at facebook.com/foxnewslatino