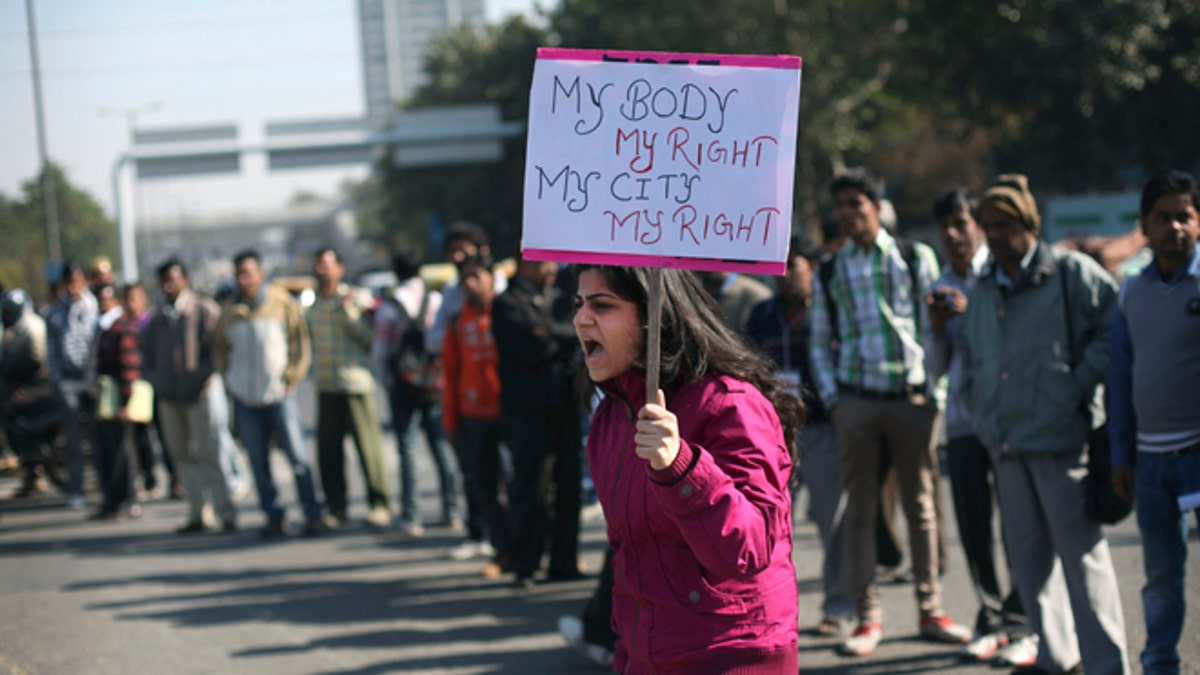 NEW DELHI – The hours-long gang-rape and near-fatal beating of a 23-year-old student on a bus in New Delhi triggered outrage and anger across the country Wednesday as Indians demanded action from authorities who have long ignored persistent violence and harassment against women.
In the streets and in Parliament, calls rose for stringent and swift punishment against those attacking women, including a proposal to make rapists eligible for the death penalty.
`'I feel it is sick what is happening across the country . it is totally sick, and it needs to stop," said Smitha, a 32-year-old protester who goes by only one name.
Thousands of demonstrators clogged the streets in front of New Delhi's police headquarters, protested near Parliament and rallied outside a major university.
Angry university students set up roadblocks across the city, causing massive traffic jams.
"We want to jolt people awake from the cozy comfort of their cars. We want people to feel the pain of what women go through every day," said Aditi Roy, a Delhi University student.
Hundreds rallied outside the home of the city's top elected official before police dispersed them with water cannons, a move that earned further condemnation from opposition leaders, who accused the government of being insensitive.
Meanwhile, the victim lay in critical condition in the hospital with severe internal injuries, doctors said.
Police said six men raped the woman and savagely beat her and her companion with iron rods on a bus driving around the city -- passing through several police checkpoints -- before stripping them and dumping them on the side of the road Sunday night.
Delhi police chief Neeraj Kumar said four men have been arrested and a search was underway for the other two.
Sonia Gandhi, head of the ruling Congress Party, visited the victim, promised swift action against the perpetrators and called for police to be trained to deal with crimes against women.
"It is a matter of shame that these incidents recur with painful regularity and that our daughters, sisters and mothers are unsafe in our capital city," she wrote in a letter to Delhi Chief Minister Sheila Dikshit.
The outpouring of anger is unusual in a country where attacks against women are rarely prosecuted. The Times of India newspaper dedicated four pages to the rape Wednesday, demanding an example be made of the rapists, while television stations debated the nation's treatment of its women.
Opposition lawmakers shouted slogans and protested outside Parliament and called for making rape a capital crime. Cutting across party affiliations, lawmakers demanded the government announce a plan to safeguard women in the city.
Home Minister Sushil Kumar Shinde told Parliament he had ordered increased police patrols on the streets, especially at night.
Shinde said the government has introduced bills to increase the punishment for rapes and other crimes against women, but they are bogged down in Parliament.
Analysts and protesters said the upsurge of anger was chiefly due to increasing incidents of crime against women and the seeming inability of authorities to protect them.
"We have been screaming ourselves hoarse demanding greater security for women and girls. But the government, the police, and others responsible for public security have ignored the daily violence that women face," said Sehba Farooqui, a women's rights activist.
Farooqui said women's groups were demanding fast-track courts to deal with rape and other crimes against women.
In India's painfully slow justice system, cases can languish for 10 to 15 years before reaching court.
"We have thousands of rape cases pending in different courts of the country. As a result, there is no fear of law," says Ranjana Kumari, a sociologist and head of the New Delhi-based Center for Social Research.
"We want this case to be dealt with within 30 days and not the go the usual way when justice is denied to rape victims because of inordinate delays and the rapists go scot-free," Farooqui said.
Analysts say crimes against women were on the rise as more young women left their homes to join the work force in India's booming economy, even as deep-rooted social attitudes that women are inferior remained unchanged. Many families look down on women, viewing the girl child as a burden that forces them to pay a huge dowry to marry her off.
Kumari says a change can come about only when women are seen as equal to men.
Rapes in India remain drastically underreported. In many cases, families do not report rapes due to the stigma that follows the victim and her family. In other instances, families may decide not to report a rape out of frustration with the long delays in court and harassment at the hands of the police. Police, themselves are reluctant to register cases of rape and domestic violence in order to keep down crime figures or to elicit a bribe from the victim.
In a sign of the protesters' fury, Khushi Pattanaik, a student, said death was too easy a punishment for the rapists, they should instead be castrated and forced to suffer as their victim did.
`'It should be made public so that you see it, you feel it and you also live with it . the kind of shame and guilt," she said.