French minister asks Google to delete prison images
The daring jailbreak of a high-profile French criminal who modeled himself after Hollywood villains has prompted the country's officials to petition Google to blur all prison images.
Notorious gangster Redoine Faid escaped from Reau prison in southeast Paris earlier this year after he and three armed, masked men hijacked a helicopter. The 46-year-old escapee, who was serving 25 years in prison for the 2010 murder of a young police officer, was captured in a pre-dawn raid last week, ending a three-month manhunt.
French Justice Minister Nicole Belloubet told RTL radio station that she reached out to Google to ask the Internet giant to remove all images of the country's prison – including the Reau prison – from its services. She said she had made a similar request in the past and no action has been taken.
NOTORIOUS FRENCH GANGSTER, WHO ESCAPED PRISON IN HIJACKED HELICOPTER, CAUGHT
"It's not normal that photos of security buildings such as our prisons are out there on the internet," Belloubet told the radio station. "I've written to Google asking for action to remove [photos of] these penitentiary sites but nothing has happened so far. I may have to ask to meet the people I wrote to."
Clear aerial photos of Reau prison show that the open courtyard of the jail complex did not have anti-helicopter nets.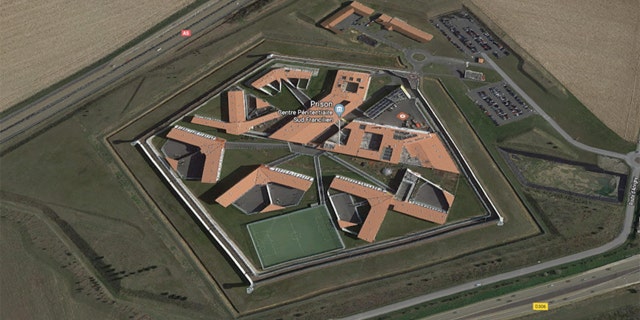 Belloubet's office told Sky News it sent a letter to Google France in July – after Faid's daring escape – and received a response a month later saying the company was working with third-party suppliers to put blurring in place.
The French government wants the images blurred in all of Google's web services, including Maps, Earth and Image Search.
A spokesperson for Google told Reuters the Maps and Earth services use images provided by external suppliers.
"We have given our suppliers a list of sensitive locations and asked them to take the necessary steps as soon as possible to conform with the law," the spokesman added.
Belloubet said Faid, who has declared himself to be on a hunger strike, is now in solitary confinement and banned from receiving visits at his new prison in northern France.
The new prison also has photos readily accessible on the internet.