Veteran Fox News cameraman Pierre Zakrzewski has died after his vehicle was struck by incoming fire in Horenka, outside Kyiv, Ukraine, on Monday, Fox News Media CEO Suzanne Scott announced Tuesday.
Ukrainian journalist Oleksandra "Sasha" Kuvshynova, 24, was also killed alongside Zekrzewski, Fox News confirmed later Tuesday. Kuvshynova was serving as a consultant for Fox News on the ground during the course of the Russian invasion.
FOX NEWS JOURNALIST KUVSHYNOVA KILLED IN UKRAINE
Fox News journalist Benjamin Hall was with Zakrzewski and Kuvshynova while newsgathering and was also injured. Hall remains hospitalized, Scott said.
PUTIN MOVES TO SEIZE FOREIGN PLANES, ZELENSKYY SAYS FLEEING RUSSIANS 'SUPPLY' HIS ARMY: LIVE UPDATES
"It is with great sadness and a heavy heart that we share the news this morning regarding our beloved cameraman Pierre Zakrzewski," Scott said.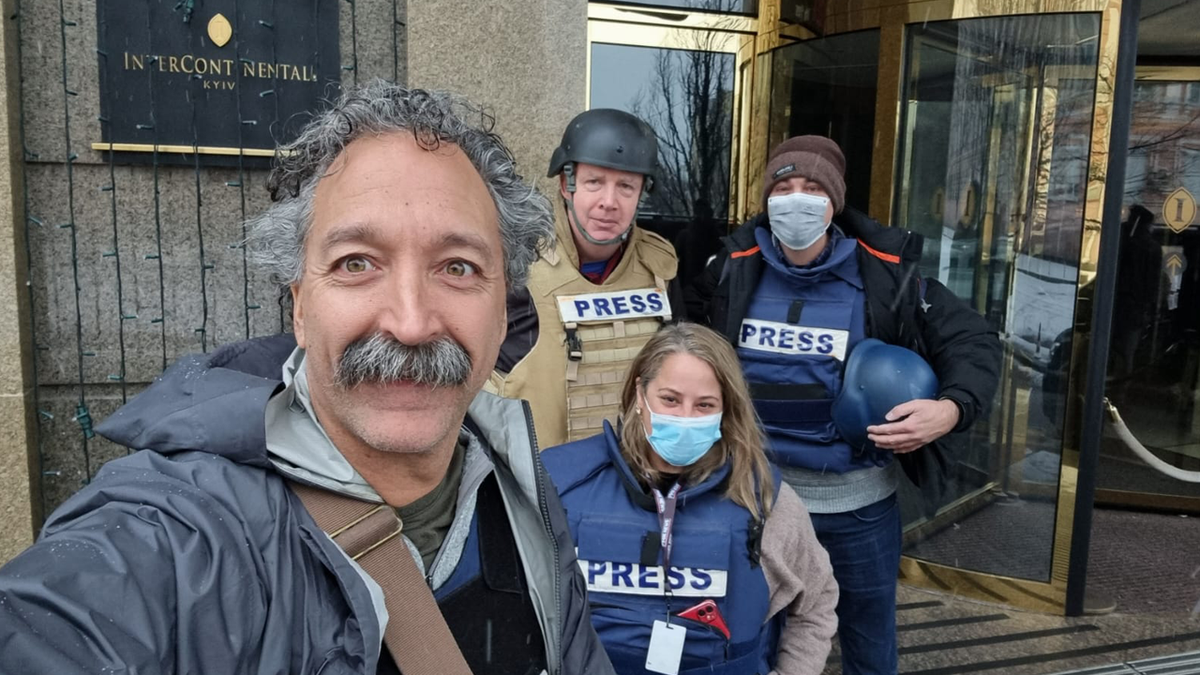 "Pierre was a war zone photographer who covered nearly every international story for FOX News from Iraq to Afghanistan to Syria during his long tenure with us," she added. "His passion and talent as a journalist were unmatched. Based in London, Pierre had been working in Ukraine since February."
"His talents were vast and there wasn't a role that he didn't jump in to help with in the field — from photographer to engineer to editor to producer — and he did it all under immense pressure with tremendous skill," Scott continued. "He was profoundly committed to telling the story and his bravery, professionalism and work ethic were renowned among journalists at every media outlet. He was wildly popular – everyone in the media industry who has covered a foreign story knew and respected Pierre."
Last year, he played a key role in getting Afghan freelance associates and their families out of the country after the U.S. withdrawal, Scott said. In December at Fox News' annual employee Spotlight Awards, Pierre was given the "Unsung Hero" award "in recognition of his invaluable work," she added.
RUSSIA INVADES UKRAINE: LIVE UPDATES
"Pierre was a constant in all of our international coverage. I, like countless others, always felt an extra sense of reassurance when arriving on the scene and seeing him with camera in hand," Fox News president and executive editor Jay Wallace said Tuesday. "The legacy of his positive spirit, boundless energy and eye for the story will carry on."
"We extend our deepest condolences to Pierre's wife Michelle and family," Scott wrote to Fox News Media staff. "Please keep them all in your prayers. And please continue to pray for Benjamin Hall."
Fox News foreign correspondent Trey Yingst, who also is on the ground in Kyiv, memorialized his colleague on Tuesday, writing that Zakrzewski was "as good as they come."
"I don't know what to say. Pierre was as good as they come," Yingst tweeted, sharing a selfie of them together. "Selfless. Brave. Passionate. I'm so sorry this happened to you."
Other Fox News colleagues took to Twitter to remember Zakrzewski.
"Pierre, we miss you. We are devastated," White House correspondent Jacqui Heinrich wrote.
National Security correspondent Jennifer Griffin said, "Such a fine man. Such a good friend. Such a fantastic war photographer and so much more. RIP Pierre Zakrzewski."
"I worked with Pierre many times around the world," "America Reports" co-anchor John Roberts said. "He was an absolute treasure. Sending our most heartfelt prayers to Pierre's wife and family."
National correspondent Bryan Llenas reiterated how "everyone in the industry knew of, admired and adored Fox News war zone photographer Pierre Zakrzewski."
News of Zakrzewski's death comes two days after another American journalist and former The New York Times contributor, Brent Renaud, was shot and killed near Irpin while headed with a colleague to take photos of refuges fleeing the region outside of Kyiv. His colleague, identified in initial reports as U.S.-based journalist Juan Arredondo, was also wounded and taken to a nearby hospital by Ukrainian rescuers.
Initial reports indicated Renaud and Arredondo came under Russian fire when approaching a bridge in a car. From the roadside shooting scene, a Ukrainian police officer reportedly remarked to PBS correspondent Jane Ferguson, "Tell America, tell the world, what they did to a journalist."
White House press secretary Jen Psaki on Tuesday addressed Zakrzewski's passing at the top of her press conference, noting, "He is someone who has served in many war zones over the course of time."
"He was a war zone photographer who covered nearly every international story for Fox News from Iraq to Afghanistan to Syria during his long tenure working there," Psaki said. "Our thoughts, our prayers are with his family, with the entire community as well."
With news of second foreign journalist killed in Ukraine in the last two days, House Minority Leader Kevin McCarthy, R-Calif., on Tuesday acknowledged the "devastating" losses of Renaud and Zakrzewski.
CLICK HERE TO GET THE FOX NEWS APP
"An entire nation grieves with their families," he tweeted. "We also pray for the recovery of Fox News' Benjamin Hall, who suffered serious injuries while covering the war."
Fox News' Joseph A. Wulfsohn, Marisa Schultz contributed to this report.