Five Philippine soldiers arrested for looting amid city battle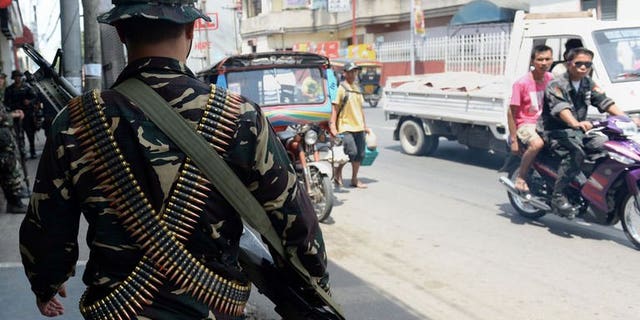 MANILA (AFP) – Five Philippine soldiers have been arrested for looting during a lengthy battle against Muslim guerrillas, a military spokesman said Tuesday, in the first such disciplinary action in recent memory.
The soldiers were seen looting on September 20 while their comrades were battling members of the Moro National Liberation Front (MNLF) who had occupied parts of the port city of Zamboanga for over two weeks, said Lieutenant Colonel Ramon Zagala.
"Soldiers reported fellow soldiers looting... and this was received by higher headquarters. The chief of staff ordered them arrested and investigated," he said.
Zagala said the objects looted by the soldiers, including a firearm and "personal items", were returned to their owners.
"It doesn't matter, even though they are involved in the fight... if what they were doing was wrong," he added.
Philippine security forces have long been criticised for abuses, with troops rarely punished for misdeeds on the battlefield.
Hundreds of soldiers and policemen have been engaged in combat in Zamboanga City since September 9 when about 200 MNLF members entered the city in the most serious armed challenge to the Philippine government in recent years.
Fifteen soldiers and police have been killed along with at least 104 MNLF members, police have said.
Scores of MNLF fighters have also been arrested or surrendered but others are still at large, holding civilians as human shields.
In Zamboanga City, MG-520 attack helicopters and an SF-260 airplane were seen on Tuesday, firing rockets and machineguns at a mangrove swamp where MNLF members are believed to be hiding.
Navy ships were also seen firing on the swamp but it was not clear if they had hit anyone, eyewitnesses said.
MNLF founder Nur Misuari is believed to have ordered the assault for fear that his group would be sidelined by an autonomy deal that the government is negotiating with a rival group, the 12,000-strong Moro Islamic Liberation Front.