Final day of voting in S.Sudan's independence test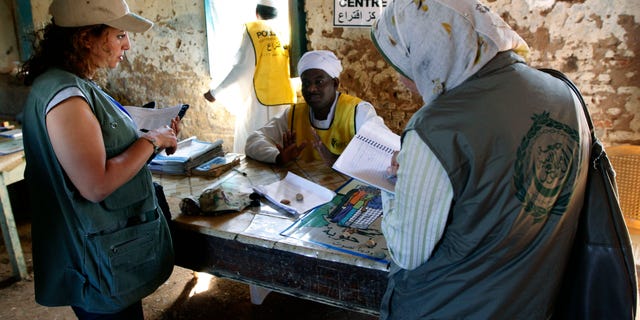 JUBA, Sudan – A small handful of voters cast ballots Saturday, the final day of Southern Sudan's weeklong independence referendum.
Celebrations from southerners excited about the birth of their new nation are scheduled to begin soon.
Former U.S. President Jimmy Carter said in Khartoum, Sudan's northern capital, that the process has been orderly in both the north and south, and estimated about 90 percent turnout in the south.
Results will start trickling in immediately after polls close Saturday evening, but there is little suspense. Almost everyone expects the south to vote overwhelmingly to break away from the north, cleaving one of Africa's larger nations in two to create the world's newest country.
Sudan's ruling party in the north said Friday it was ready to accept southern independence. Border demarcation, oil rights and the status of the contested region of Abyei still have to be negotiated.
If the process stays on track, southern Sudan will become the world's newest country in July.
Celebrations are planned in the south. The weeklong vote was mostly peaceful, but there were scattered attacks the previous weekend. Polling stations in Juba were jammed Sunday and Monday, but slowed to a trickle in later days.
Officials have said that more than 60 percent of the 3.9 million registered voters have cast ballots. That was the threshold for the vote to be valid. The proposal needs only a simple majority to pass.
Individual polling stations will begin posting their results on Sunday. Official results will be released early February.
Carter has been in Sudan this week to monitor the historic independence vote and to meet with top officials. His foundation, the Carter Center, has been involved in health programs and democracy building in Sudan for more than two decades.
"We have observed a very orderly process in both the north and south, adequate enthusiasm in the north and tremendous enthusiasm and excitement in the south, heavy turnouts, probably averaging almost 90 percent turnout in the south and about 50 percent in the north," he said.
Carter also said he expected the Khartoum-based government to honor the poll's results.
"I think (northerners) will recognize the results immediately," he said. "When the official statement is made of the results of the referendum, my conviction is that the north, including (President Omar al-Bashir), would accept the results."
__
Associated Press writer Sarah El Deeb in Khartoum, Sudan contributed to this report.