Father of toddler killed in NYC restaurant bathroom says mom was 'sick'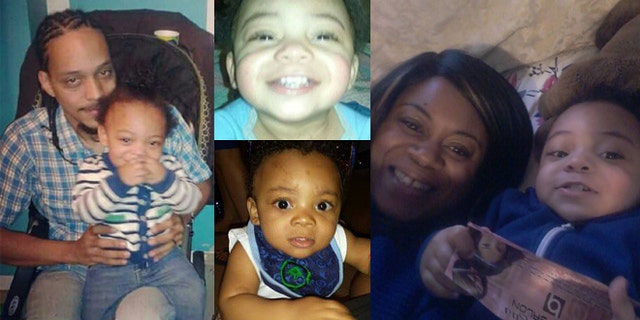 NEWYou can now listen to Fox News articles!
The father of the 20-month-old boy who died after his mother allegedly killed him in the bathroom of a Manhattan restaurant says he's "heartbroken" but wants people to have sympathy for Latisha Fisher, who was charged on Tuesday with second-degree murder.
"She's a good person and a happy person," Luis Ortiz, 33, told the New York Daily News. "It's not her fault that she's sick."
Fisher, 35, is accused of taking Ortiz's son, Gavriel Ortiz-Fisher, into a bathroom at the 5 Boro Burger restaurant on Monday afternoon, and covering the toddler's face until he suffocated.
One source told the Daily News that Fisher "blamed the devil" for her action.
Ortiz paints a rosier picture of the relationship between mom and son.
"You couldn't separate them," he told the newspaper. "They were always playing, and when they were playing, he was a happy boy."
A long profile of Fisher that appeared on the front page of the New York Times on Wednesday said that in the past Fisher had tried to commit suicide, poured burning oil onto the head of the father of her first child, been diagnosed with paranoid schizophrenia, and attacked an aunt with a stun gun.
Ortiz says that he knew Fisher had mental health issues when they first started going out three years ago but didn't think they were so severe.
Ortiz works as a janitor at a Harlem senior center. Fisher was employed in a nail salon when they first met and attended classes until last year, stopping after Gavriel was born.
For the last month or so, Ortiz told the Daily News, Fisher had been acting strangely.
"She wasn't herself. You'd talk to her and she was, like, in a daydream," he said. "I thought she was going through something, like she wanted to be alone. I didn't see the signs."
On Monday, he noticed nothing unusual when Fisher left with Gavriel.
"She told me that she was going to take him to a park, let him run around a little while and then bring him back for a nap and wait for me to come home from work," Ortiz said.
Instead of mother and son, however, it was police officers who greeted him.
Ortiz told the paper he has neither seen nor spoken to Fisher since she was arrested.
"Forgiven her? Not just yet. I just want her to get help," he said. "I don't want her to be taken to jail because this is a serious thing. I want everyone to wake up and see that she needs help."
The family has started a GoFundMe page hoping to raise $10,000 to pay for Gavriel's funeral.
As of noon on Thursday, just over $3,000 had been donated.
"What I'm going to miss most about [Gavriel]," Ortiz told the Daily News, "is everything."
Like us on Facebook
Follow us on Twitter & Instagram