Fast-moving fire kills more than 80 in ancient part of Bangladesh capital
A fast-moving fire swept through a historic district in the capital of Bangladesh late Wednesday evening killing at least 81 people and gutting an area that dates back more than 400 years ago, officials said.
The blaze broke out in a residential building that had flammable material stored on the ground floor and quickly leaped from building to building in the ancient district of Chawkbazar in Dhaka.
Witnesses said many gas cylinders stored in the buildings continued to explode one after another in the warren of narrow streets with apartments squeezed over shots, restaurants and industrial warehouses on the ground floors.
CROATIAN WOMAN DETAINED AFTER MISSING SISTER'S BODY DISCOVERED IN FREEZER: REPORT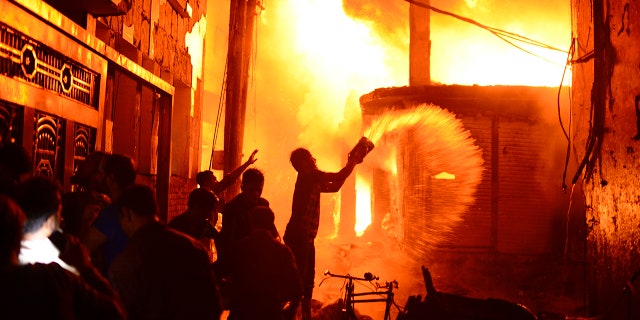 Officials said firefighters struggled to reach the area because of heavy traffic and narrow alleys that were busy when the fire started.
Members of a bridal party are thought to be among the victims, BBC reported.
Mahfuz Riben, from Dhaka Fire Service and Civil Defense, told Sky News that it was "a difficult situation" as many of the recovered bodies were "beyond recognition."
LDS MISSIONARY FROM UTAH, 18, DIES IN DOMINICAN REPUBLIC AFTER FALLING OFF APARTMENT BUILDING ROOF
Mohammad Firoz told BBC's Bengali service that at least 25 of his friends and relatives are missing and fears that his brother is among those who perished.
"The flames spread so quickly," he said, adding that he saw an electricity transformer explode, which caused a minibus parked below to catch fire.
It was not immediately clear what ignited the fire.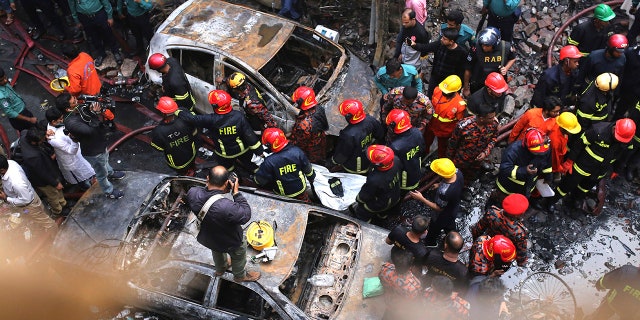 Chawkbazar is one of the most important areas in Old Dhaka established about 400 years ago during the Mughal dynasty. It is a hub of chemical businesses and local perfume factories, though authorities banned the storage of chemical goods after a fire near Chawkbazar killed at least 123 people in 2010.
KIDNAPPINGS, MURDERS ON THE RISE IN MEXICAN STATE WHERE WOMAN WAS DECAPITATED: 'THERE IS A LOT OF SUFFERING GOING ON'
After that fire authorities promised to bring the area into compliance with building codes and regulations, and evict chemical warehouses from buildings where people lived.
Industrial facilities can't legally exist in areas that are zoned residential, said Mohammed Manjur Morshed, an assistant professor of urban planning at Khulna University of Engineering and Technology.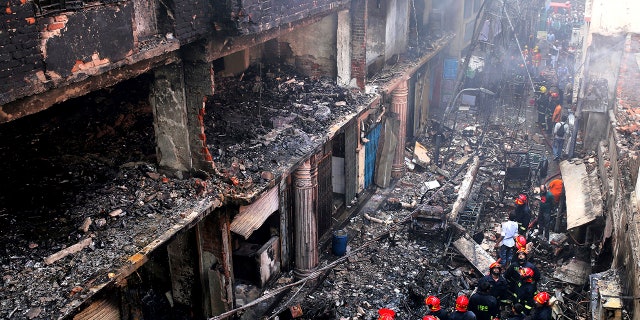 "This type of thing happens, there's a big initiative to move everything out, and then after some time people forget about it and the government is really not interested anymore. It's like that," Morshed said.
Morshed said government regulations are sufficient but are routinely flouted in Chawkbazar.
"This is a historic area with a distinct culture," he said. "They are not really abiding by the government's rules."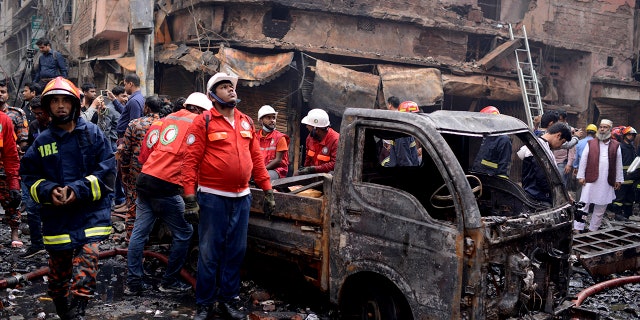 On Thursday afternoon, shops had opened and the streets were crowded in much of Chawkbazar, outside a police cordon where authorities continued to comb through the destruction left by the blaze.
CLICK HERE TO GET THE FOX NEWS APP
The fire was about 550 feet away from Dhaka's 18th-century Central Jail, a former Mughal fort where ex-Prime Minister and opposition leader Khaleda Zia has been held since February last year on corruption charges. Since 2016, the jail has only been used to hold opposition figures, and Zia is currently the only inmate. It was not threatened by the fire.
The Associated Press contributed to this report.