Ex-officer charged in murder of homeless man says he didn't know of plan during standoff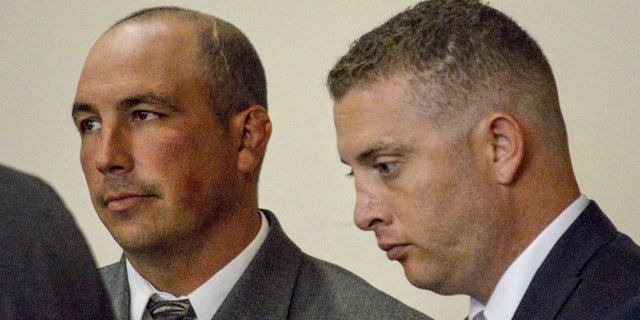 NEWYou can now listen to Fox News articles!
ALBUQUERQUE, N.M. (AP) – A former Albuquerque police officer standing trial on a murder charge in the on-duty shooting death of a homeless camper told jurors he had concerns about being in the dark about what prosecutors have described as a botched plan to take the man into custody.
But those concerns didn't stop SWAT Officer Dominique Perez from following his sergeant's request for him to join other officers in a hillside standoff. The standoff ended with Perez and now-retired Detective Keith Sandy shooting the homeless man, 38-year-old James Boyd.
"I'm going to be moving up to that location and I don't know what the plan is," Perez said. "I know there's a plan; I just don't know what it is."
Perez, who was fired from the Albuquerque Police Department last year after being arraigned on a second-degree murder charge in Boyd's death, took the stand Tuesday during the third week of his and Sandy's jury trial to testify in his own defense. Perez's testimony will resume Wednesday.
Sandy also is charged with second-degree murder in Boyd's death.
The officers opened fire after a chaotic 10 seconds in which Sandy detonated a flash-bang grenade, Boyd pulled two knives and a K-9 unit quickly closed in on the camper. The officers contend they shot Boyd to protect the life of the K-9 handler, who didn't have a weapon in hand.
"All the things that occurred that day happened in the blink of an eye — happened at the speed of light," Perez said.
The March 2014 shooting led to protests over a spate of shootings by Albuquerque police and prompted a criminal investigation into Perez and Sandy's decision to shoot. It also spurred calls for the U.S. Justice Department to speed an investigation into accusations of excessive force at the hands of local police.
That investigation later found a "culture of aggression" within the Albuquerque Police Department and set the stage for a settlement agreement to overhaul how officers interact with the mentally ill and people in crisis.
With Boyd, the encounter began when a resident reported his illegal campsite situated several hundred feet behind some homes. The two open-space officers who responded with weapons drawn but not pointed at Boyd called for help after they tried to pat him down and the camper pulled knives.
Nearly 20 officers responded to the scene over the next several hours with rifles, handguns, hundreds of rounds of ammunition, and K-9s and smoke bombs.
At one point, members of a tactical unit established to target violent career criminals called for an officer trained in crisis intervention to stop negotiating with Boyd and moved into replace him.
Special prosecutor Randi McGinn faults Sandy for being at the center of that decision and others blamed for escalating the standoff that led to Boyd's shooting death.
Perez was among the last to arrive after his SWAT sergeant called him on his day off and asked him to respond. A father of three, he had been celebrating his birthday at home with his family when he was asked to go to the standoff.
He drove to the campsite hearing other officers say over radio traffic that Boyd was threatening officers and that he also had a history of violence against police, including one instance in which he broke an officer's nose.
A few minutes after Perez arrives, the flash-bang grenade goes off, and Perez and Sandy open fire.
Sandy's bullets hit Boyd in each arm. Perez's round hit Boyd in the back.
Perez said that he began pulling the trigger in the same split-second Boyd started turning away from police, resulting in his bullet piercing Boyd's back.
Like us on Facebook
Follow us on Twitter & Instagram