EU boss: 'Borders are the worst invention ever made by politicians'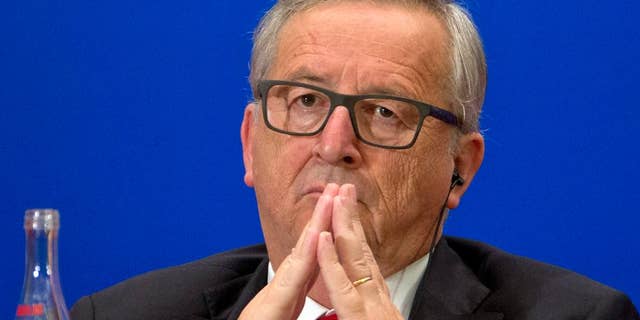 European Union chief Jean Claude Juncker has branded borders the "worst invention ever" in an astonishing blast.
The bureaucrat slapped down calls for tougher frontier controls on the Continent despite growing fury over the fallout from the migrant crisis.
And he called for more "solidarity" with refugees and their children.
Speaking in Austria he said: "We have to fight against nationalism, we have the duty not to follow populists but to block the avenue of populists.
"Borders are the worst invention ever made by politicians."
He even appeared to say the Continent risked bloodshed by echoing former French president Francois Mitterand's warning that nationalism added to nationalism led to war.
The comments sparked a furious reaction from Downing Street.
The PM's official spokeswoman said: "The British people think that borders are important, having more control over our borders is important, and that is an issue we need to address."
Migration Watch chair Lord Green added: "The EU is far from being an antidote to nationalism in Europe. The Commission's arrogance dismissal of genuine concerns in fact stokes up public anger in a growing number of member states."
The row came as Angela Merkel met with French President Francois Hollande and Italian PM Matteo Renzi for a post-Brexit crisis summit on an Italian aircraft carrier.
Renzi insisted Britain's bombshell Brexit vote didn't mean the EU was "finished".
Separately Swedish PM Stefan Loefven warned Theresa May that "aggressive" moves by the UK to cut the rate of corporation tax could ruin Brexit negotiations.
He said: "If they begin that kind of race that will of course make discussions more difficult."
Jean Claude Juncker has repeatedly upset EU member states over the migrant crisis.
He unveiled plans for a "swift" response to the crisis a year ago by calling on EU states to each take a share of 160,000 asylum seekers who had travelled to Italy and Greece.
Earlier this year he threatened to fine nations that refused to take part.
The EU Commission President was speaking in Austria, one of a number of EU states that have ripped up the spirit of the Schengen 'no passport' zone on the Continent by reintroducing border checks.
Germany infuriated Switzerland on Sunday by tightening its own border controls in a desperate bid to stop the tide of illegal immigrants pouring into the country.
The Swiss said it was clear evidence Angela Merkel had ripped up the welcome mat she laid out for refugees last year. Some 3,385 illegal immigrants are thought to have entered Germany from
Switzerland so far this year – up 40 per cent on the same period in 2015. Swiss Finance Minister Ueil Maurer said: "Germany has clearly moved away from its welcoming attitude."
This story first appeared in The Sun.