Egypt's outgoing interim president bids farewell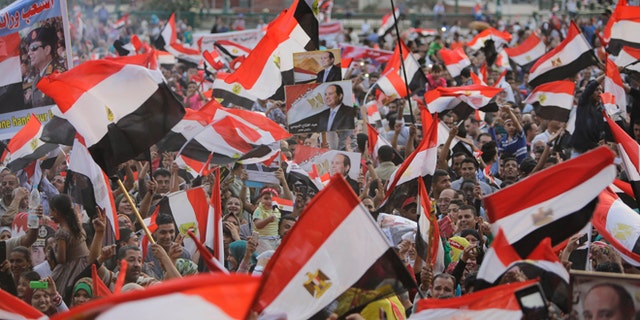 CAIRO – In an emotional farewell speech, Egypt's outgoing interim president on Wednesday said the public must rise to its responsibilities in the face of enormous challenges in a country he said has been scarred by violence, a dilapidated economy, political confusion and international conspiracies threatening its identity and territorial integrity.
Adly Mansour is closing a nearly a year as president. The head of the Supreme Constitutional Court, he was installed as interim president under a military transition plan in July after the ouster of Islamist President Mohammed Morsi, who had faced massive protests after a year in office.
Mansour now hands over office to former army chief Abdel-Fattah el-Sissi, who oversaw Morsi's removal and who won last week's presidential elections in a landslide. El-Sissi is to be sworn in on Sunday.
"It was a year of formidable and immense responsibility. As an ordinary citizen, I never imagined the true extent of the burden, the enormity of the challenges," Mansour said, listing Egypt's woes in a speech that echoed el-Sissi's campaign theme that Egyptians must put end turmoil to allow reconstruction.
He said the country is "in better shape" today after the passing of an amended constitution and the presidential elections.
Mansour becomes Egypt's second president to peacefully hand over office to a successor -- the only other one being another interim figure, Sufi Abu Taleb, who served for around a week between President Anwar Sadat, who was assassinated by Islamic militants in 1981, and Hosni Mubarak, who ruled for 29 years until he was toppled in a 2011 popular uprising. Egypt's first president after a 1952 coup against the monarchy, Mohammed Neguib, was removed and put under house arrest by his successor, Gamal Abdel-Nasser, who died in office.
During Mansour's presidency, Morsi supporters refused to recognize the new authorities, holding near daily protests that were met with a fierce crackdown.
Security forces stormed two sit-ins by Morsi supporters six weeks after his ouster, leaving hundreds dead. In the months that followed, thousands of Morsi loyalists and Islamists were rounded up, and most are facing trials for inciting violence and belonging to a group that the government now considers a terrorist organization.
In the meantime, a violent low-level insurgency in the Sinai spread to other parts of Egypt, targeting mostly police and military, leaving also hundreds dead. Militant groups said they are avenging the removal of Morsi and the crackdown. Non-Islamist critics of the interim authorities increased amid complaints the government was stifling dissent.
Egypt's economy also continued to shrink, with tourism and foreign investment almost coming to a standstill.
Mansour, 68, said the region is also fraught with instability engulfing Egypt from all sides, referring to the civil war in Syria, lawlessness in Libya and unrest in other neighbors.
Mansour said Egypt has witnessed conspiracies and plots to destabilize it-- a government accusation against Morsi's Muslim Brotherhood.
"History will inevitably uncover the truth one day and it is then that you will realize the gravity of the designs and plots against Egypt, the difficulty of this phase, and the critical juncture that Egypt was passing through," he said.
For Egypt to regain strength and international standing, he said domestic reforms must come first. But he asked the people to distance themselves from "personal interests, group demands or party inclinations."