Dolores Huerta to Receive Medal of Freedom at White House Ceremony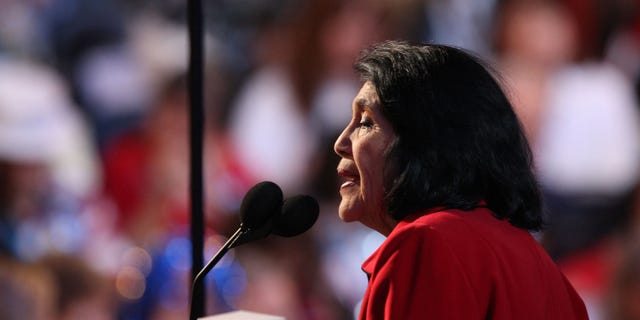 Dolores Huerta, co-founder of the United Farm Workers union, will receive the country's highest civilian honor Tuesday.
The White House will present the lifelong unionist and immigrant rights advocate with the Medal of Freedom. Huerta is one of 14 recipients of the award this year.
"I was humbled, thrilled, and surprised," Huerta, 82, told the Daily Beast. "I never expected to be nominated."
Huerta's sense of justice developed from an early age. Raised in Stockton, Calif., Huerta watched her father work for little pay in the fields, while her mother managed a hotel that often let poor migrants stay for free, according to the Daily Beast.
Along with César Chávez, Huerta founded the National Farm Workers Association in 1962, which later evolved into the United Farm Workers of America. The Medal of Freedom award comes just two weeks after the farm workers union celebrated its 50th anniversary.
Using strikes, marches, boycotts and hunger strikes, the UFW has defended the interests of farm workers, including many immigrants, and pressured businesses to sign collectively bargained contracts. The union's tactics often met resistance. Huerta has been arrested 22 times and been beaten for her activism.
Notwithstanding her run-ins with the law, Huerta has been influential in passing far-reaching legislation. Her accomplishments as a labor rights activist include helping pass California's Agricultural Labor Relations Act of 1975 and helping secure disability insurance for California farmworkers.
The UFW today boasts 27,000 members, powerful political allies, and is active in the states of California, Oregon and Washington.
Huerta launched the Dolores Huerta Foundation in 2002, with the mission of supporting community organizers and budding political leaders.
The Medal of Freedom is the nation's highest civilian honor. It's presented to individuals who have made especially meritorious contributions to the national interests of the United States, to world peace or to other significant endeavors.
Huerta will share the stage with the likes of novelist Toni Morrison, former Supreme Court Justice John Paul Stevens, Girl Scouts founder Juliette Gordon Low and folk music star Bob Dylan.
Contains material from the Associated Press
Follow us on twitter.com/foxnewslatino
Like us at facebook.com/foxnewslatino