Controversial Sudanese president meets Texas teen detained at school with homemade clock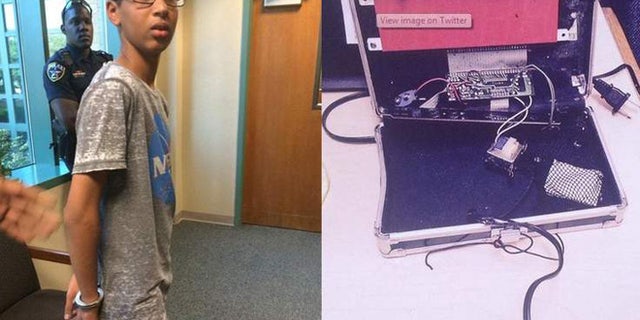 Ahmed Mohamed, the 14-year-old American arrested after a homemade clock he brought to school was mistaken for a bomb, met Sudan's controversial longtime president Omar al-Bashir, Sudanese state-run radio said Thursday.
The boy's father, Mohamed Hassan al-Sufi, is a Sudanese immigrant and a former presidential candidate who ran opposing al-Bashir. In power since 1989, the Sudanese president has an outstanding arrest warrant from the International Criminal Court for allegedly orchestrating genocide, crimes against humanity and war crimes in Darfur.
Al-Bashir received the Texas teenager and his family at the presidential compound in Sudan's capital Khartoum, Radio Omdurman reports.
Ahmed was pulled from class last month, handcuffed and taken to a detention center after showing the digital clock to teachers at his suburban Dallas high school.
The arrest sparked worldwide outrage, with many accusing the school of Islamophobia. Ahmed has since been invited to meet with world leaders and scientists such as President Obama and Facebook creator and CEO Mark Zuckerberg.
Ahmed said he was pleased to meet al-Bashir and wished to meet him again with a new invention, The Washington Post reports.
Sudan is under U.S. sanctions. Bashir's government harbored Usama bin Laden for five years in the 1990s, and a leaked U.S. diplomatic cable published suggests he may have stolen $9 billion in oil money.
Ahmed's father, Mohamed El Hassan Mohamed, has campaigned against Bashir in two presidential elections.
El Hassan ran for election again this past February, proposing an improvement in relations with the United States and promising to deal with religious extremism, The Washington Post reports.
The Associated Press contributed to this report.