Complex ballot faces voters in Dominican elections, thousands expected in U.S.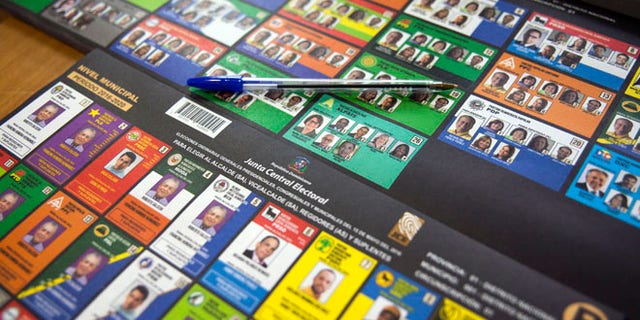 NEWYou can now listen to Fox News articles!
SANTO DOMINGO, Dominican Republic (AP) – Dominicans faced a dizzying array of choices Sunday in one of the most complex ballots in recent history, with eight candidates for president, all 222 members of Congress up for re-election and thousands of people vying for local offices around the country.
For many voters it amounts to a referendum on whether to let President Danilo Medina's Democratic Liberation Party, or PLD, extend its political dominance after winning four of the last five presidential elections and controlling both the Senate and Chamber of Deputies for a decade.
As polls opened at dawn Sunday, glitches snarled hundreds of voting stations where newly deployed technology identifying registered voters by their fingerprints malfunctioned. Balloting also started late in many areas.
"This is an abuse," exasperated voter Ana Maria Perez said at a polling station in Santo Domingo where she had been waiting for nearly two hours.
Roberto Rosario, chief of the country's electoral board, blamed delays on the mass resignations of 3,000 technical assistants and other poll workers a day before elections. Replacements had to be trained swiftly. He did not immediately disclose a reason why the workers walked off the job before the vote.
But despite the problems, officials said balloting appeared to be going relatively smoothly in much of the Caribbean nation of roughly 10 million people.
Polls forecast that Medina, 64, could take more than 50 percent of the vote to avoid a runoff against his nearest competitor, businessman Luis Abinader. That's due in part to the fact that the opposition is divided and weaker than during the last election, in 2012, which was much closer.
Medina also benefits from an economy that grew 7 percent last year, better than any other country in Latin America or the Caribbean, and increased funding for social programs that have strong popular support. Medina's government has built about 2,500 new schools, lengthened the school day to provide more classes and promoted literacy and vocational training for adults.
Retired actress Frennes Baez said she was convinced by Medina's call to stay the course and believed the president deserved another term.
"Voting for another doesn't mean that things will be better," Baez said at a polling station in the bustling capital.
Abinader, 48, ran for vice president in 2012 but has never held elective office. On the campaign trail he has vowed to spend more on a system of social programs that provide payments to nearly 1 million poor families. He also says he would reduce crime, a principal concern in the country, and hike pay for police and the armed forces as well raise the national minimum wage.
His backers feel the ruling party, which passed a constitutional amendment letting Medina run for a second consecutive term, has been allowed to amass too much power.
"We're fed up. The PLD controls everything," said Rafael de Jesus, a mechanic and father of two who was planning to vote for Abinader. De Jesus also worried that the party has been able to pack the bench with friendly judges, saying: "They want everything."
If no candidate surpasses 50 percent, there will be a runoff June 26. Electoral authorities say nearly 7 million people are expected to vote including thousands in the United States, mostly in large Dominican enclaves in New York and Florida.