Clashes in Bangui in bid to disarm Bozize supporters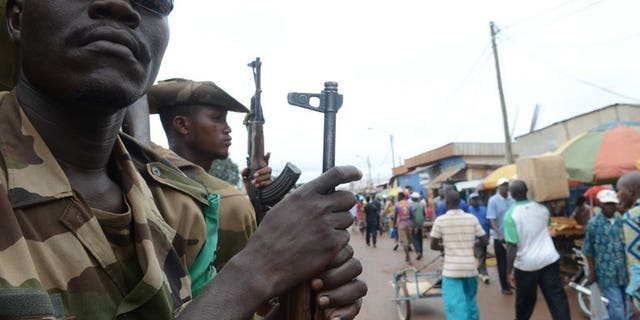 BANGUI, Central African Republic (AFP) – Armed clashes erupted in the Central African Republic's capital Bangui as the new president's forces tried to disarm supporters of former leader Francois Bozize, a military source said on Wednesday.
The disarmament operation by forces of President Michel Djotodia occurred overnight Tuesday in the neighbourhoods of Boy-Rabe and Boeing, near the airport, a military source told AFP on condition of anonymity.
"There was small and heavy-arms fire unleashed by former Seleka fighters. There were clashes in some places, but it is difficult to assess what happened," the source said.
Boy-Rabe is considered a stronghold for supporters of Bozize, the president who was overthrown on March 24 by the rebel coalition Seleka, led by Djotodia, who last Sunday was inaugurated as the country's new president. Bozize is currently in France.
On Monday, the minister for security, General Nouradine Adam as well as other top defense and security officials met with leaders of the Boy-Rabe neighbourhood to try and get them to denounce those who carried arms.
In April, a similar operation in Boy-Rabe and in neighbouring Kassin by the forces of the new regime left 20 people dead.
Since the collapse of the Bozize regime, the country has lived in a general climate of insecurity, with abuses carried out against the general population by "uncontrolled elements" of the former rebels, say the authorities.