Christine Lagarde Named First Woman Chief of International Monetary Fund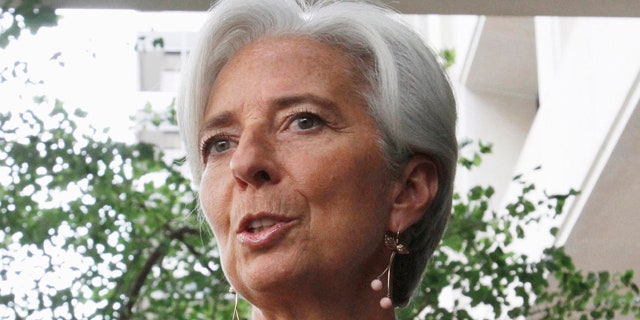 WASHINGTON -- French Finance Minister Christine Lagarde has been chosen to lead the International Monetary Fund. She will become the first female managing director of the global lending organization.
Lagarde's selection became all but assured when the Obama administration endorsed her earlier Tuesday. Hours later, the IMF's 24-member board voted to appoint her to the position. She had also won support from Europe, China and Russia.
"I am deeply honored by the trust placed in me," Lagarde said in a statement after the vote. "I would like to thank the fund's global membership warmly for the broad-based support I have received."
Lagarde will face immediate challenges once she begins a five-year term next week.
She'll have to prod fellow European officials to take painful steps to prevent a default by Greece. She'll face pressure from emerging nations that want a greater voice at the IMF. And she'll be looked upon to restore the organization's reputation, which was tarred by a scandal involving the man she replaced.
Dominique Strauss-Kahn resigned last month after being charged with sexually assaulting a New York City hotel housekeeper. He has denied the charges.
She was chosen by consensus, the IMF said in a statement. Mexico's Agustin Carstens challenged her, but his candidacy never caught fire.
Lagarde's "exceptional talent and broad experience will provide invaluable leadership ... at a critical time for the global economy," U.S. Treasury Secretary Timothy Geithner said.
Lagarde, 55, will be the first person to lead the IMF who isn't an economist. She led the Chicago-based law firm Baker & McKenzie before entering French politics in 2005. She speaks impeccable English and spent much of her career in the United States.
As one of the longest-serving ministers under French President Nicolas Sarkozy, she made the country's labor market rules more flexible. Forbes has listed her among the world's most powerful women.
Her appointment puts two women in prominent leadership roles at the organization. In April, Nemat Shafik, an Egyptian economist and former World Bank official, was appointed a top deputy at the fund. Shafik said last month the IMF is boosting its efforts to recruit women. The fund wants 25 percent to 30 percent of its management positions to be held by women by 2014, Shafik said.
In addition to the most recent charges, Strauss-Kahn was reprimanded in 2008 for having a brief affair with a subordinate, though he faced no disciplinary action.
Lagarde told the IMF's board last week that the managing director "has to lead by example." She promised to "restore staff pride in working at the IMF" as part of a "healing process."
Lagarde will be expected to help stabilize Europe's debt crisis.
"This will put her in the position to work more closely with her European counterparts and push them if needed," said Domenico Lombardi, a senior fellow at the Brookings Institution and a former member of the IMF's executive board.
That's likely one reason why even some developing countries, such as China, supported her candidacy, Lombardi said. China owns billions of dollars in euro-dominated bonds and has little interest in seeing the European debt crisis worsen.