China's Xi affirms goal of unification with Taiwan in meeting with senior island politician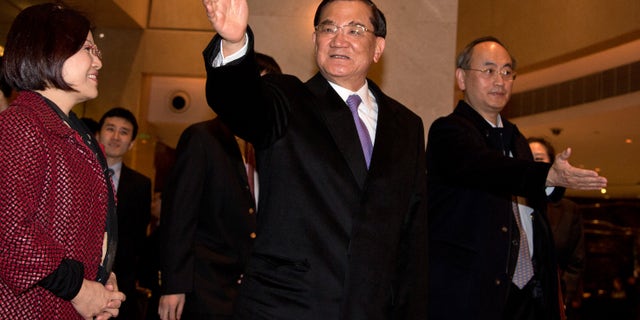 BEIJING – Chinese leader Xi Jinping reaffirmed China's desire to bring Taiwan under its control in a meeting Monday in Beijing with the honorary head of the island's ruling party.
Xi told Nationalist Party honorary chairman Lien Chan that he and other Communist Party leaders who took office in November will continue developing ties and pushing for unification with the island, which China claims as part of its territory.
"The new Communist Party ruling collective will continue to push forward the peaceful development of relations between the two sides and advance the cause of peaceful unification," Xi told Lien at their meeting at the Great Hall of the People, the seat of the legislature in downtown Beijing.
Xi promised to "pragmatically forge ahead" to achieve new achievements in relations that would enrich residents on both sides of the Taiwan Strait.
The meeting is the first between Xi and a leading Taiwanese politician since Xi assumed the party leadership in November, and comes weeks before he assumes the title of state president at the legislature's annual session.
Taiwan split from China amid civil war in 1949. The Nationalists, once bitter Cold War rivals with China's Communists, support eventual unification with mainland China but only under a still-to-be negotiated framework.
Recent years have seen considerable growth in relations following years of tensions under former President Chen Shui-bian, whose Democratic Progressive Party advocated the island's formal independence — something China threatens to prevent by military force.
China dropped its threatening rhetoric following the election of Nationalist president Ma Ying-jeou in 2008. Trade, tourism and private visits have grown exponentially since then.
Lien, who lost two presidential races to Chen, is a former premier and vice president whose 2005 visit to China was seen as a breakthrough in long-frosty relations between the Communists and Nationalists.
Xi, considered a relative hardliner on Taiwan and China's external relations, has considerable experience on Taiwan economic issues dating from his time as a leader in coastal provinces facing the island. Some observers have speculated he may push for political talks between the sides, starting with the exchange of permanent liaison offices.