China Raps U.S. on Taiwan Arms, Warns of Fallout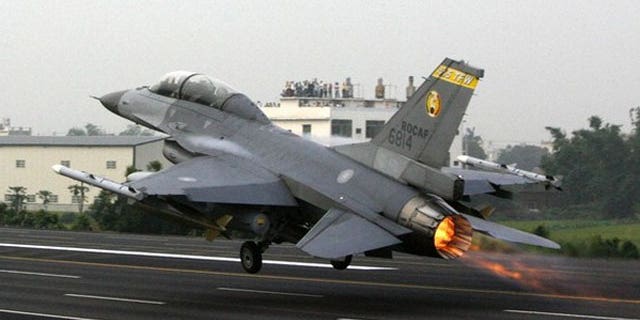 BEIJING – China on Thursday denounced a decision by the United States to upgrade Taiwan's F-16 fighter jets, summoning the U.S. ambassador and warning that military ties and overall relations will suffer.
But the strong words are seen as merely rhetoric, delivered in keeping with China's policy of reacting strongly to all U.S. military cooperation with the island. Previous threats to retaliate diplomatically or economically have come to nothing.
Given that background, the impact on ties was expected to be slight, partly because Washington deferred a decision on selling Taiwan a more advanced version of the plane that would have stirred far greater anger from Beijing.
"For the sake of legitimacy, the regime has to respond strongly. There will always be bluster and threats bandied about, but they also know that the U.S. is their most important foreign relationship," said Gabe Collins, a Michigan-based expert on the Chinese military.
"At the end of the day, I don't think there'll be significant damage," said Collins, the co-founder of China Signpost, an online publication that follows China's armed forces.
The Chinese Foreign Ministry said in a statement on its website that Vice Minister Zhang Zhijun summoned U.S. Ambassador Gary Locke in Beijing to deliver the protest.
"The wrongdoing by the U.S. side will inevitably undermine bilateral relations as well as exchanges and cooperation in military and security areas," Zhang told Locke, according to the statement.
China's Defense Ministry also protested the U.S. decision, with spokesman Geng Yansheng saying it had "created severe obstacles for the normal military-to-military exchanges of the two countries."
The ministry's deputy head of foreign affairs summoned Washington's military attache to Beijing to deliver a "strong protest," over the arms deal, the official Xinhua News Agency reported.
Collins said the Foreign Ministry's protest was largely a concession to the powerful military and nationalistic public sentiment fed by state propaganda portraying the U.S. as an interloper that uses support for Taiwan as a means of restraining China's rise.
China regards the democratic island of 23 million people as part of its territory, and sees the arms sales as undermining China's efforts to woo back Taiwan. The two sides split amid civil war in 1949.
Beijing's show of anger comes even though the U.S. decided not to sell Taiwan new F-16 fighter jets, as Taiwan and some in Congress had pushed for. Taiwan had long wanted 66 new F-16 C/Ds, but the deal permits it a series of upgrades on its existing fleet of 145 F-16 A/Bs.
The $5.85 billion upgrade will provide new radars, weapons systems, pilot training, spare parts and structural upgrades, but is not nearly as advanced as the electronics, avionics and fire systems aboard the C/D models that are believed to represent a level of sophistication that China has yet to acquire.
"No matter what weapons are sold to Taiwan, protests must be made," said Yu Tiejun, an Asian security expert at Peking University. He described the government's response as "relatively moderate," and in line with public expectations.
A sharper response would have agitated China-U.S. relations at a time when both sides desire calm ahead of next year's U.S. presidential election and a looming leadership transition in Beijing, he said.
China is preparing to send vice president and assumed future leader Xi Jinping to Washington this year for a major profile-building visit. A significant rise in tensions could poison the atmosphere for such a trip, tarnishing Xi's image as future leader of the world's most populous nation and second-largest economy.
"China-U.S. relations are in a very subtle period. So China's reaction needs to be rational," Yu said.
In Taipei, Taiwan's Foreign Ministry hailed the Obama administration for "responding to our request proactively by taking concrete actions to approve" the upgrade. In a statement late Wednesday night, the ministry said the package is "composed of many advanced systems."
Beijing temporarily suspended military exchanges with the U.S. last year after the Obama administration notified Congress it was making $6.4 billion in weapons available to Taiwan, including missiles, Black Hawk helicopters, information distribution systems and two Osprey Class Mine Hunting Ships.
Military exchanges are again considered the most likely target of China's wrath, although Beijing could also cancel some symbolic meetings. Even then, the impact would likely be slight -- China has long viewed defense contacts as a political bargaining chip.
Taiwan's appeals for U.S. military assistance are driven largely by China's rapid military modernization, especially in its air fleet. Over recent years, the People's Liberation Army Air Force has added scores of advanced Russian Su-27 and domestically developed J-10 warplanes to its fleet, and recently began testing a prototype stealth fighter called the J-20. China is also sea testing its first aircraft carrier, a refurbished Soviet model bought from Ukraine.
Taiwan, meanwhile, has seen its air defense edge degraded as its fleet of F-16 A/Bs, French Mirage 2000-5 and domestically developed IDF fighters steadily ages.