Chicago Board Of Education Votes To Close 50 Schools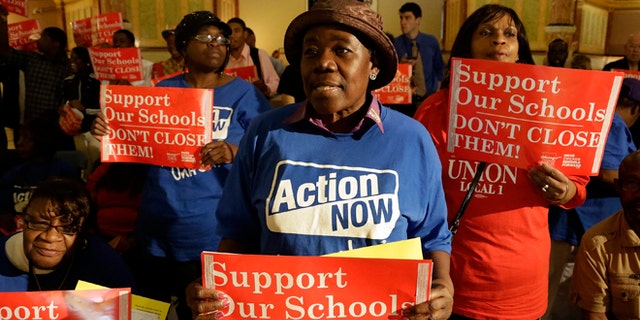 Chicago – In a move that could help define — for better or worse — Mayor Rahm Emanuel's term in office, the Chicago Board of Education voted Wednesday to close 50 schools and programs, an ambitious plan that has sparked protests and lawsuits.
City officials say the closings are necessary because of falling school enrollment and as part of their efforts to improve the city's struggling education system. Critics have blasted Emanuel, the former White House chief of staff, and schools chief Barbara Byrd-Bennett, saying the closings disproportionately affect minority neighborhoods and will endanger children who may have to cross gang boundaries to get to a new school.
They protested during a sometimes raucous board meeting Wednesday and sent busloads of parents, teachers and students to Springfield to lobby lawmakers to approve a moratorium on the closings. Chicago Teachers Union President Karen Lewis called it "a day of mourning" for the children of Chicago, but Byrd-Bennett defended the decision.
"The only consideration for us today is to do exactly what is right for the children," Byrd-Bennett said before the vote.
Many experts say it is the largest number of closings at any one time by any school district in recent memory, and it comes with political risk. The teacher's union already has pledged to start a voter registration drive in an attempt to register 200,000 new voters before the 2015 municipal elections — when Emanuel will be up for re-election — and to raise funds to support candidates for mayor, city council and statewide office.
"We know that we may not win every seat we intend to target but with research, polling, money and people power we can win some of them," Lewis said.
But the mayor said Tuesday he believes closing the schools is the right thing to do, and that possible blowback from voters wasn't a factor in his decisions.
"I will absorb the political consequence so our children have a better future," Emanuel said. "If I was to shrink from something the city has discussed for over a decade about what it needed to do ... because it was politically too tough, but then watch another generation of children drop out or fail in their reading and math, I don't want to hold this job."
Chicago is among several major U.S. cities, including Philadelphia, Washington and Detroit to use mass school closures to reduce costs and offset declining enrollment. Detroit has closed more than 130 schools since 2005, including more than 40 in 2010 alone.
The school closings are the second major issue pitting Emanuel against the Chicago Teachers Union. The group's 26,000 members went on strike early in the school year, partly over the school district's demand for longer school days, idling students for a week.
Emanuel and Byrd-Bennett say the district's financial and educational struggles call for drastic action. They say Chicago Public Schools is facing a deficit of about $1 billion and that too many buildings are half-empty because of a population drop in some city neighborhoods. CPS says it has 403,000 students in a system that has seats for more than 500,000.
Emanuel and Byrd-Bennett have said students will be moved to schools that are performing better academically and that CPS will work with Chicago police and community groups to ensure students can get to and from their new schools safely. They also have promised all of the schools that receive students from closed buildings will have air conditioning and a library, and that students in third through eighth grades will be given iPads.
Byrd-Bennett proposed in March that 54 schools and programs be closed. She revised her recommendation on Wednesday, asking the board to spare four schools. Three were left open because they have unique initiatives, such as a program for hearing impaired students and child/parent center. The other was saved because it is the only magnet school in one area of the city.
The board — whose members are appointed by Emanuel — agreed with her recommendations, ultimately voting to close one high school program and 49 elementary schools, which serve students up to eighth grade. One closing will be delayed by one year; the remaining schools are scheduled to close at the end of the current academic year.
Whether the closings impact Emanuel politically could depend greatly on how things play out over those next few months. If all goes smoothly, he could be the mayor who finally found a way to turnaround the nation's third-largest school district. If they don't, said political analyst Don Rose, "it's going to be trouble."
Alison Burke, whose 3-year-old son is in the pre-kindergarten program at Trumbull Elementary, which will be closed, predicted the vote will trigger an exodus from the city by parents.
"No question about it," she said. "I've talked to hundreds of parents who all say if their kids can't get into neighborhood schools they can't stay."
Nina Stoner's four kids attend West Pullman Elementary on the city's South Side, which the board also voted to close. She said she plans to "boycott" CPS rather than let her children go to their new school, which is located in rival gang territory.
"It's a war. It's not safe," Stoner said.
Stoner said the gang members to the north of her neighborhood already have gotten "really aggressive." She's had one family member jumped by the gang, and another who was shot.
And she's already made up her mind about the mayor in 2015.
"He won't get no vote from me," she said.
Based on reporting by The Associated Press.
Follow us on twitter.com/foxnewslatino
Like us at facebook.com/foxnewslatino