Chavez in Iran for talks on boosting oil, gas ties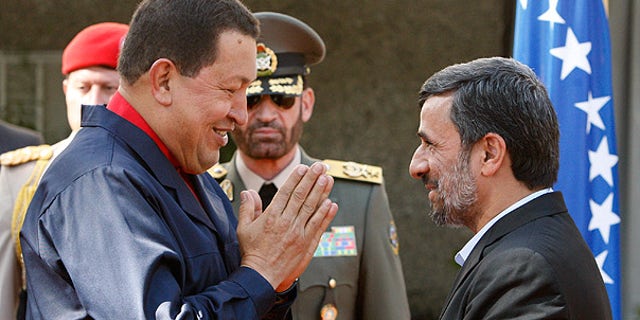 TEHRAN, Iran – Venezuelan President Hugo Chavez was holding talks Tuesday with Iranian leaders expected to focus on boosting cooperation between the countries' oil, gas and petrochemical industries.
Iranian President Mahmoud Ahmadinejad warmly greeted Chavez at the presidential palace hours after the Venezuelan leader arrived for a two-day visit, Iranian state TV reported.
Chavez, who is on his ninth visit to Iran as president, praised Caracas' ties with its close Mideast ally, saying they "are solid and very, very deep." In remarks carried on Venezuelan state television, Chavez said relations with Tehran are based both on "shared interests" and a mutual belief in the importance of Iranian sovereignty.
The Venezuelan leader, who has backed Iran in its confrontation with Western powers over Tehran's disputed nuclear program, said he and Ahmadinejad would discuss "the tensions that (U.S.) imperialism is generating" in the Middle East and "the unfair sanctions imposed on the people of Iran," referring to the U.N. sanctions imposed on Iran over its refusal to halt uranium enrichment.
The U.S. and its allies accuse Iran of using its civilian nuclear program as a cover to develop an atomic bomb. Iran denies the charges, saying its nuclear program is for peaceful purposes such as generating electricity and producing radioisotopes for medical uses.
Chavez also defended his own plan to build a nuclear power plant in Venezuela with Russia's help, denouncing critics in the Latin American media who he said jumped to the conclusion that nuclear power "can't be permitted for Venezuela because it's a country that's readying itself to attack."
"It's the same tale, the same story of the (U.S.) empire and all of its worldwide networks to try to impede the independence of our people," Chavez said. "Development, industrialization: On that path we have chosen, they will not stop us."
It's unclear how much money Chavez is prepared to commit to the atomic program, or how quickly he could move to build a reactor.
Chavez also said Iranian and Venezuelan officials were working on new cooperative accords, though he did not give details or say in which areas. Past cooperative agreements have seen Iran provide assistance for projects including building public housing, bicycles and tractors in Venezuela.
___
Associated Press writer Ian James in Caracas, Venezuela, contributed to this report.