Canadian railways review rules after derailment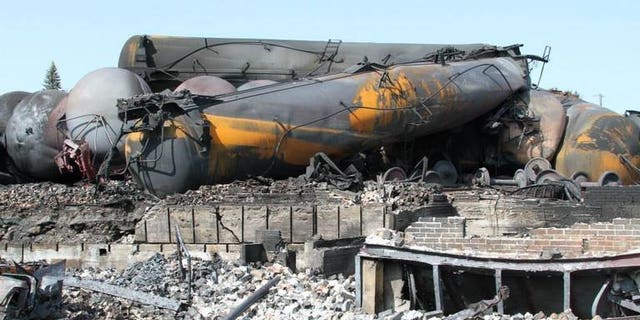 OTTAWA (AFP) – Canada's two largest railways said Thursday they are reviewing procedures for securing stopped trains, pending new federal rules following the derailment of a runaway train in Quebec.
Canadian National (CN) told AFP it is reviewing what it described as already "robust policies" to secure its trains.
Canadian Pacific Railway (CP) meanwhile reportedly issued an internal bulletin announcing changes to its safety operations in anticipation of a Transport Canada order.
The bulletin, cited by the daily Globe and Mail, says parking trains carrying dangerous goods on main lines is now prohibited, and hand brakes must be applied whenever a train is left unsupervised for more than one hour.
"With the recent tragic incident that occurred in Lac-Megantic, Quebec, in preparation to a pending order by Transport Canada, Canadian Pacific is revising our operating instructions," the companysaid.
In an email to AFP, a CP spokesman added that unattended locomotives outside a terminal or yard will now be locked.
"These enhanced safety and operating rules," CP spokesman Ed Greenberg said, "are an update to (the company's) current general operating instructions for our employees" and "were identified from what recently occurred" in Lac-Megantic.
Montreal, Maine & Atlantic Railway's runaway oil tanker train derailed and exploded on July 6, flattening part of the picturesque Quebec town of Lac-Megantic and killing up to 50 people.
The railway's chairman said last week that the disaster appeared to have been caused by an engineer's failure to properly set hand brakes on the train.
The train was carrying crude oil from the Bakken shale fields of North Dakota in 72 tanker cars through the resort town of 6,000 near the Canada-US border.
It had been scheduled to cross Maine to an Irving Oil refinery in New Brunswick.
Canada's transportation minister was not immediately available for comment nor to confirm the pending new train safety rules.