By The Numbers: Arizona's Lighting Rod 'Sheriff Joe' Has Spent $38 Million In Legal Costs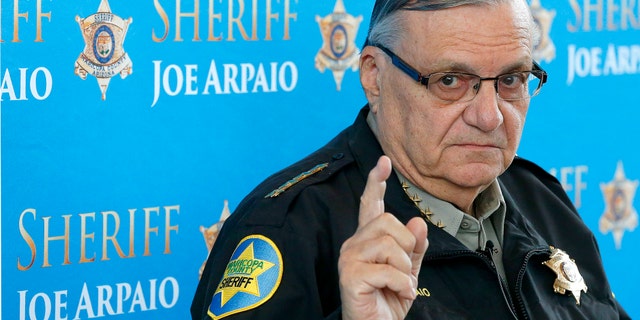 PHOENIX (AP) – Maricopa County Sheriff Joe Arpaio has made a name for himself on the national political stage with his crackdowns on illegal immigration and tough jail policies.
But his efforts have also have cost Maricopa County tens of millions of dollars in court cases. Several people who were the target of Arpaio's investigations have sued the county and walked away with large checks.
On Monday, records released by county officials show a four-year political feud with county officials in which Arpaio was a central player has cost taxpayers $38 million.
The following is look at some of Arpaio's legal costs over his 21-year tenure as sheriff.
OFFICIAL CHARGED — $3.5 MILLION
Maricopa County taxpayers paid former Supervisor Don Stapley $3.5 million to settle his abuse-of-power lawsuit against Arpaio. Stapley's lawsuit arose out of two failed criminal cases brought against him by the sheriff and an Arpaio ally who was then the county's top prosecutor. Both criminal cases collapsed in court, without either case ever going to trial. Stapley contended that he had been wrongfully targeted, while Arpaio and his ally maintained they were trying to root out corruption in county government.
POLICE DOG'S DEATH — $775,000
The county agreed to pay $775,000 to settle a lawsuit that alleged Arpaio violated Chandler police Sgt. Tom Lovejoy's rights by arresting him on an animal-abuse charge after the officer's police dog died from excessive heat in August 2007 after being left in a hot police vehicle for 12 hours. Lovejoy was acquitted of the misdemeanor charge and accused Arpaio of trumping up the criminal case so the sheriff could exploit the publicity. The sheriff argued the arrest was constitutional because investigators had probable cause to arrest Lovejoy.
RACIAL PROFILING — $21 MILLION
Arpaio's office estimates that it will cost taxpayers more than $21 million over the next 18 months to pay for changes required by a judge who found the agency had systematically racially profiled Latinos in patrols. The compliance costs including hiring a court-appointed official to monitor the agency's operations, installing video cameras in hundreds of the agency's patrol vehicles and carrying out additional training to ensure officers aren't making unconstitutional arrests. Arpaio has said he doesn't regret getting involved in immigration enforcement and is appealing the judge's racial-profiling ruling. He has asked the federal government to pick up the compliance tab.
JAIL DEATH — $3.2 MILLION
The county paid $3.2 million to settle a lawsuit by a diabetic woman's family members who alleged she was denied medical treatment while incarcerated in one Arpaio's jails. Deborah Ann Braillard was brought to the jail in January 2005 and died more than two weeks later at a hospital. The lawsuit alleged that detention officers and health workers within the jail system knew of her condition but did nothing to treat her. Braillard received no insulin or a diabetic diet after she was brought in the jail system and was found face-down her cell after her daughter called the jail. She died 18 days after she was taken to hospital, the lawsuit said. Lawyers for the county said Braillard failed to advise the jail of her condition and denied that she complained about her condition.
RESTRAINT CHAIR DEATH — $8.25 MILLION
The county and its excess insurance carrier shared the costs of an $8.25 million settlement in a wrongful-death lawsuit filed the family of a man who died in 1996 during a struggle with detention officers who forced him into a restraint chair and pushed his head into his chest. A medical examiner ruled that Scott Norberg died accidentally by "positional asphyxia." The lawsuit alleged that Arpaio's officers suffocated Norberg and the medical examiner's office covered up evidence of a beating. Federal investigators dropped their investigation of Norberg's death, saying the evidence is consistent with the opinion of medical examiner. Arpaio said he was confident his officers didn't do anything wrong and that he believes the Justice Department's decision exonerated his officers.
Follow us on twitter.com/foxnewslatino
Like us at facebook.com/foxnewslatino