'Butcher of Bosnia' Refuses to Enter Plea to 'Obnoxious Charges'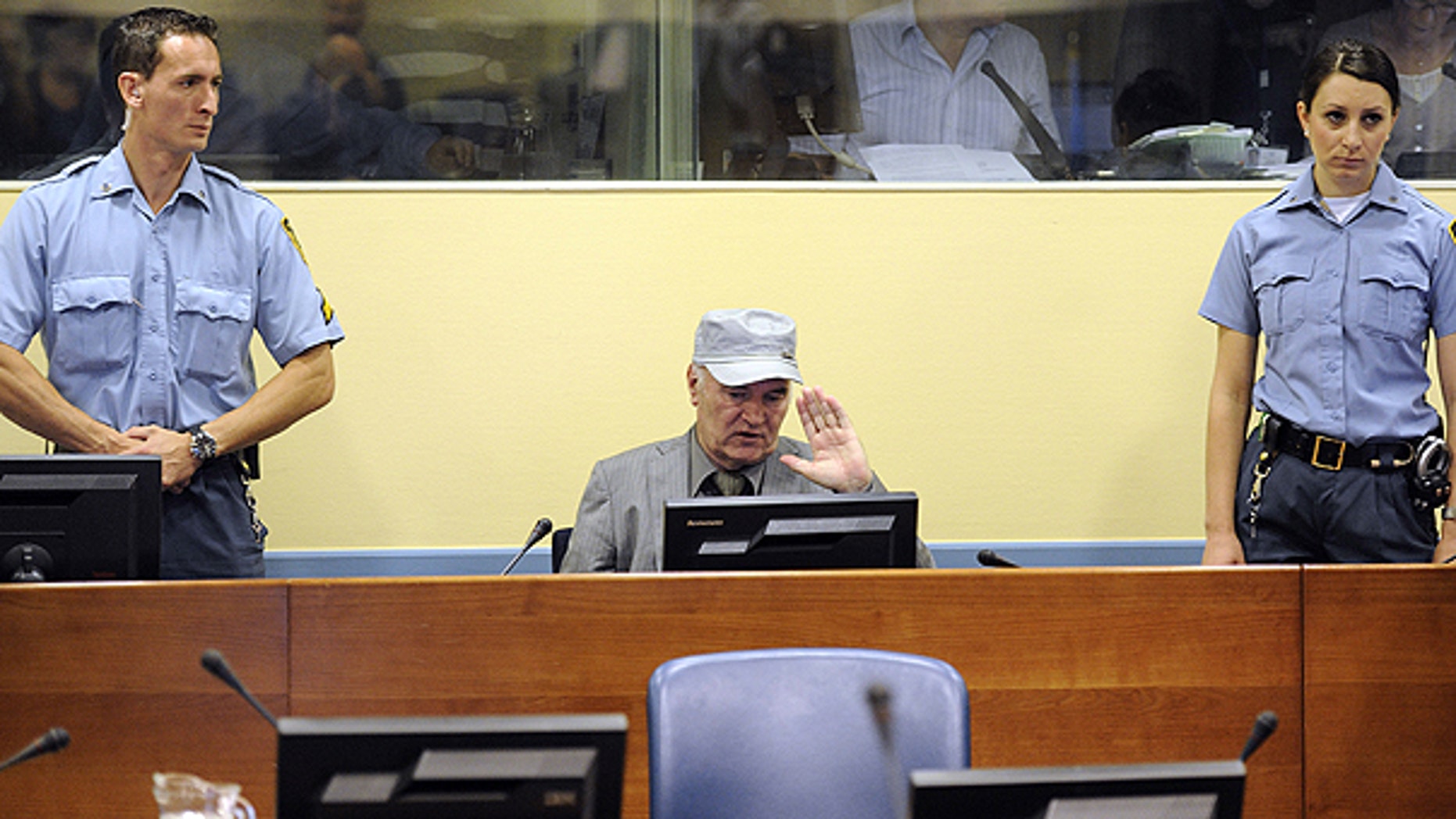 THE HAGUE, Netherlands -- Ratko Mladic defiantly refused on Friday to enter pleas to what he called "obnoxious" allegations that as the Serb military chief during the Bosnian war he orchestrated the worst atrocities of a conflict that claimed 100,000 lives. He claimed he was defending "my people and my country."
Appearing in a U.N. courtroom shielded by bulletproof glass 16 years after he was first indicted, Mladic told the Dutch presiding judge he was "gravely ill," but would only give details of his health out of earshot of the public.
However, the ravages of time and his life as a fugitive were clear for the dozens of war survivors, diplomats and journalists watching the 69-year-old general from the Yugoslav war crimes tribunal's public gallery.
Mladic appeared unable to fully use his right hand. Court guards supported him as he stood up and helped him put on a headset so he could listen to a simultaneous translation of the hearing in Serbian. His head was almost entirely bald after he removed a baseball cap he wore when he entered court and his speech was slow and appeared slightly slurred.
His family said after his arrest last week that he had suffered two strokes while on the run from an indictment for genocide and war crimes committed in the 1992-95 Bosnian war, including ethnic cleansing purges of non-Serbs, the shelling and sniping campaign that terrorized Sarajevo for four years, and the 1995 massacre of 8,000 Muslim men and boys in Srebrenica.
But Mladic had lost none of the bluster he demonstrated while commanding Serb forces accused of unspeakable atrocities throughout the 1992-95 Bosnian war.
He saluted with his left hand to the public gallery and gruffly told Presiding Judge Alphons Orie he did not want "a single letter or sentence" of his indictment read in court. When asked by Orie if he wanted to enter pleas to the indictment, Mladic replied that he did not want to respond to the "obnoxious charges" and "monstrous words."
"I am Gen. Mladic and the whole world knows who I am," he declared at the end of the hearing that lasted one hour and 40 minutes.
Orie scheduled a new hearing for July 4. If Mladic again refuses to plead to the 11 charges, including genocide and crimes against humanity, judges will file "not guilty" pleas on his behalf and preparations will begin in earnest for a trial expected to last years.
Mladic's arraignment, his first public appearance since he went into hiding nearly 16 years ago, was aired live in Serbia, where viewers appeared mostly indifferent, or curious to see what Mladic looked like after all these years.
Borko Jancic, from Belgrade, said Mladic looked old and frail, and that "the whole situation is really sad. I can't believe that they forced him to stand the trial now."
Dragan Tosic, who also watched in a Belgrade cafe, said "he looks a bit nervous, which is normal after all these years in hiding."
"But, I think he looks pretty good, considering the whole situation," Tosic added. "This should have happened a long time ago."
Law expert Vesna Rakic Vodinelic said Serbs, like most people in the Balkans, view their war crimes suspects with mixed feelings that range from indifference to a sense of injustice, but also shame.
The fierce loyalty Mladic commanded during the war was undiminished in the former Bosnian Serb stronghold of Pale, in mountains close to Sarajevo.
"He was an honest and dignified officer, who taught us to defend our land and our people," said Novica Kapuran, a decorated Serb war veteran. "He never told us to kill anyone, to slaughter anyone. Even when we captured a Muslim soldier, he used to tell us to hand him over to intelligence services, so this guy could be exchanged."
Though Mladic appeared to speak with some difficulty, his stare was as steely as during the war when he was the strutting leader of the Bosnian Serb army, and he appeared to understand the proceedings clearly.
Mladic's one-time political boss, former Bosnian Serb President Radovan Karadzic, also appeared Friday in a neighboring courtroom for his own trial on identical charges of masterminding Serb atrocities.
Mladic and Karadzic were indicted together in 1995. Karadzic was arrested on a Belgrade bus in 2008 and his trial began 18 months ago.
Mothers and widows from Srebrenica were among the dozens of people watching the arraignment from a public gallery separated from the courtroom by a wall of bulletproof glass. "Butcher! Monster!" shouted one woman as the hearing was adjourned. Mladic could see but not hear her through the glass partition.
One man stood outside court with a white banner emblazoned in red letters with the text: "Mladic, butcher of Srebrenica!"
While Mladic said he wanted to "live to see that I am a free man," the war survivors expressed fears he may be too ill to survive a trial that is expected to take years.
That fate overcame former Yugoslav President Slobodan Milosevic, who died of a heart attack in his cell in 2006 before his trial could finish.
Munira Subasic, head of the Mothers of Srebrenica Association, said she had mixed feelings about Mladic's appearance.
"Happy to be here to see, once again, the bloody eyes of the criminal who slaughtered our children in 1995," she said. "And I am sad because many mothers didn't live to see this -- mothers who found bones belonging to their children, buried them without heads and hands and the only wish they had was for him to be arrested. But they didn't live to see it."
In the gallery, Subasic became emotional as Orie read out details of the Srebrenica massacre, sighing deeply, holding her head in her hands and wiping her eyes.
Mladic finally was arrested last week by Belgrade security authorities in a move expected to speed Serbia's accession to the European Union.