Britain's William conquers affections in Falklands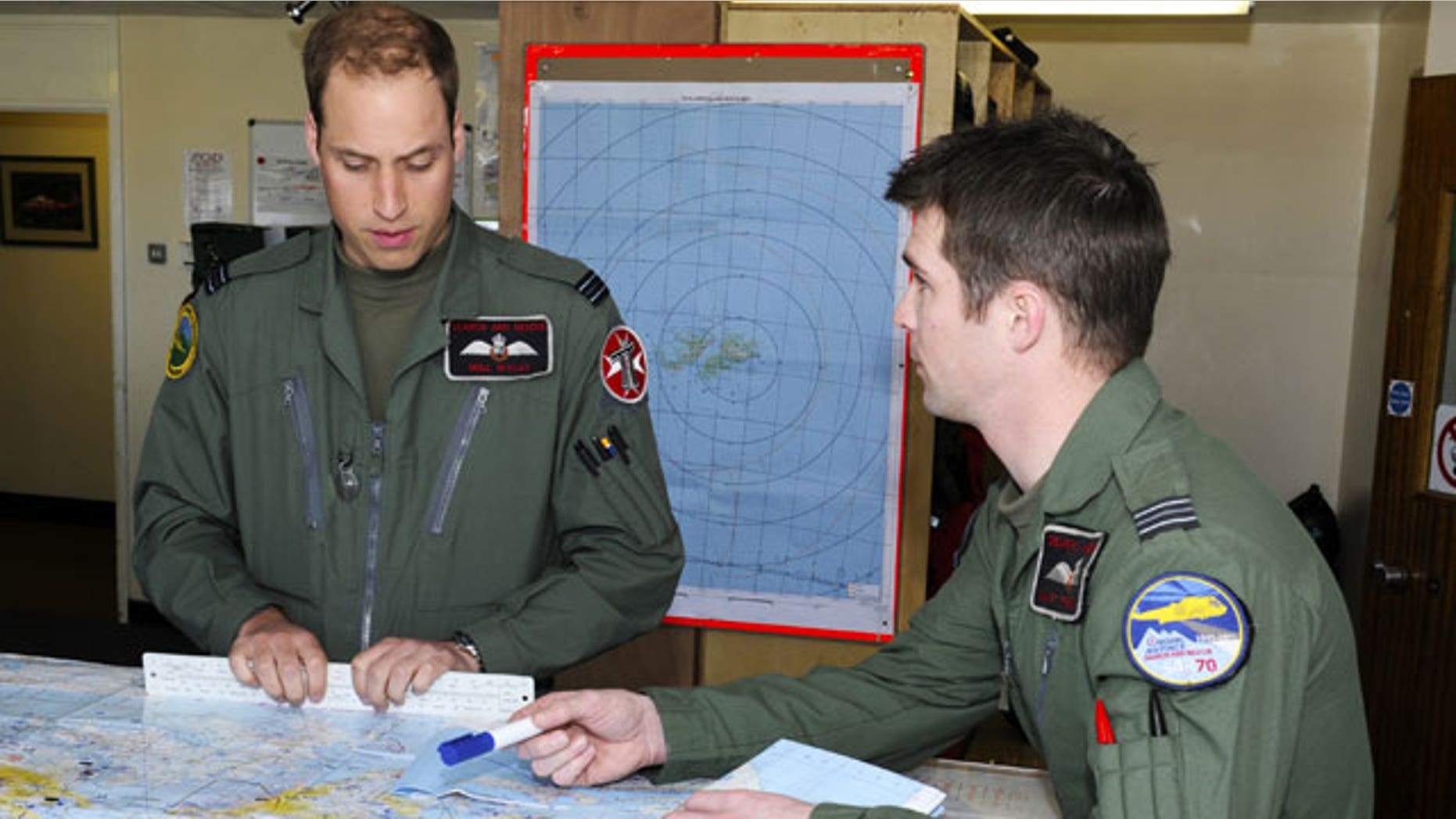 STANLEY, Falkland Islands -- The William-and-Kate refrigerator magnets in the gift shops are about as close as most people here have come to spotting the future king of England, who has only strolled through town once so far during his six-week tour of duty in the Falklands.
But islanders are trying to follow his every move nonetheless, proud to have royalty around as the anniversary of the April 2, 1982, Argentine invasion nears. Sharing gossip by cellphone and Facebook, they excitedly update each other on the latest sightings. Word of his gift-shop penguin purchase spread quickly, and when helicopters approach town, heads pop outside to see if it's one of the Royal Air Force's familiar yellow search-and-rescue birds, the sort that might have William at the controls.
"The ladies of Stanley have suddenly become experts on helicopters," laughed Gavin Short, the local cable guy who doubles as a legislative assembly member for the Falkland Islands Government. "They can spot a yellow helicopter now at five miles."
Argentine President Cristina Fernandez recently said William should have come in a diplomat's suit and not the "uniform of a conquistador" to the "Islas Malvinas," which is the name Argentines apply to islands they consider to be an integral part of their nation held illegally by Britain since 1833.
"Absolute rubbish," says Short.
"What kind of threat is he in a search and rescue helicopter? He's driving a machine that rescues people. It's one of the least warlike things you'll find out here," Short said.
William's bunkhouse, at least, can be seen from a distance as tourists land by air in this remote corner of the British Empire, 8,000 miles south of London and 300 miles off the South American coast. The Mount Pleasant airport is inside a military garrison about 1,200-strong about 35 miles from town that was built by Britain's defense ministry to take in large planes after Argentina's failed takeover.
But nobody outside the military is allowed down the road to where William has been staying, in dorms for single males surrounded by barbed wire.
Flight Lt. Wales, as he's known in the Royal Air Force, is one of several pilots on call for search and rescue missions in the sprawling archipelago of 704 islands, where even the few gravel roads are far between. His actual missions have not been made public, although several islanders said he plucked a BBC reporter with an injured leg off one of the smaller islands.
William also briefly visited the local hospital, and made a weekend pleasure trip to remote Sea Lion island, a birders' paradise where penguins, sea lions, elephant seals and can be seen up close, islanders said.
Still, even knowing William is here thrills the islanders, who have embraced the British military ever since soldiers rescued them from occupation. Now, with the 30-year war anniversary approaching, Union Jack flags have gone up all around town, and the normally pro-British culture of the islands' 3,000 residents is more fervent than ever.
William is particularly loved, and his wedding to Kate in London last year was a major excuse for parties in the Falklands, said Amelia Appleby, who works in the government office. Women pulled their wedding dresses out of closets and held a parade, and government spokesman Darren Cristie and his wife did their best to pose as lookalikes for the royal couple.
"It was huge here, an all-day event," Appleby said. "I think it's probably because we are all so patriotic."
The Falklands' population of 3,000 is mostly made up of people born in the islands and other British Overseas Territories, and they speak a Queen's English flavored by the accents of more than 30 other countries, reflecting the mix of sailors, soldiers, farmers and their families who built up a distinct way of life here over nine generations of British control.
"He's down here as a serving soldier, and is being treated as any other soldier," Short said, expressing the high regard islanders hold for the British military, which has become a treasured part of the fabric of life here. Soldiers and islanders share beers at the pubs and queues at the supermarkets, and Land Rovers are the vehicles of choice for both civilians and military.
That view also reflects the islanders' plain-spoken culture, which values hard work, self-reliance and understatement.
Still, he is a prince, and after William made quick off-duty visit with several other soldiers to one of the local gift shops, the clerk excitedly called her friend to say "He bought a penguin!"
Asked what kind of stuffed penguin toy he bought -- "Rockhopper, King, Gentoo, or Magellan?" -- she quickly became suspicious, treating the purchase as a secret: "That would violate his privacy, now wouldn't it?"
Not all are so reticent. An enterprising islander confided that he made quick money selling a snapshot of William's brief shopping foray to a newspaper in London.