Brazil officials declare World Cup a success, say predictions of chaos wrong so far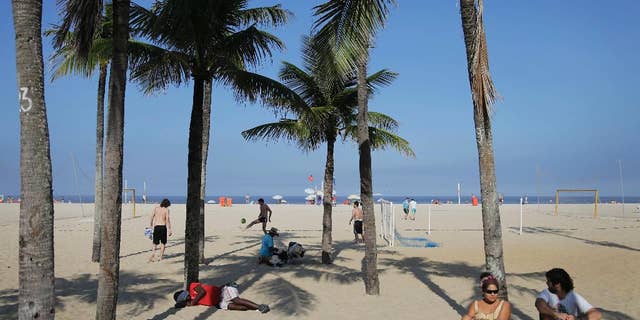 RIO DE JANEIRO – Rio de Janeiro's state's top tourism official on Monday declared the first five days of the month-long World Cup a success, saying that those who predicted a debacle have thus far been proven wrong.
Carlos Magnavita told a news conference that Rio residents gave a "demonstration of civility" during the first game in the city, Sunday's much-anticipated face-off between Argentina and Bosnia.
Last year's Confederations Cup, a World Cup dry-run, was marred by massive, nationwide protests over perceived misuse of public funds, and many observers had predicted demonstrators would take advantage of the spotlight of the World Cup to air their grievances before an international audience. But so far, World Cup matches have attracted only a scattering of demonstrators — who have consistently been wildly outnumbered by security forces — and haven't led to any disruption of matches.
"I think that the pessimists who were betting on a failure on our part need to revise" their positions, Magnavita said.
Brazil's Minister of Tourism, Vinicius Lages, said the ministry's assessment of the beginning of the tournament was overwhelmingly positive.
"From the point of view of what was expected in terms of public transit, lodgings in the host cities, the ease of getting to the matches, from the point of view of the interactions between fans and of Brazilians' hospitality, what we're hearing is that it's been very positive," he said. "The expectation that I have is that we are able in the coming days and weeks to keep up the same level of service that we've had, with our services functioning satisfactorily, and tending in a calm, tranquil manner the Brazilians who are traveling throughout the country, as well as the foreigners."
He said 600,000 tourists from 186 countries were expected to be in Brazil for the tournament, in addition to some 3 million domestic tourists, adding that it appeared everyone was enjoying themselves.
"We haven't had any problems so far," Lages said. "Nothing serious."
Many of Brazil's World Cup projects, including stadiums and public transit upgrades and airport renovations, were plagued by delays, budget over-runs or were simply scrapped. Both the international media and world football's governing body, World Cup organizer FIFA, criticized Brazilian officials for their handling of the tournament preparations.