Bomb blast kills 3 policemen in Afghanistan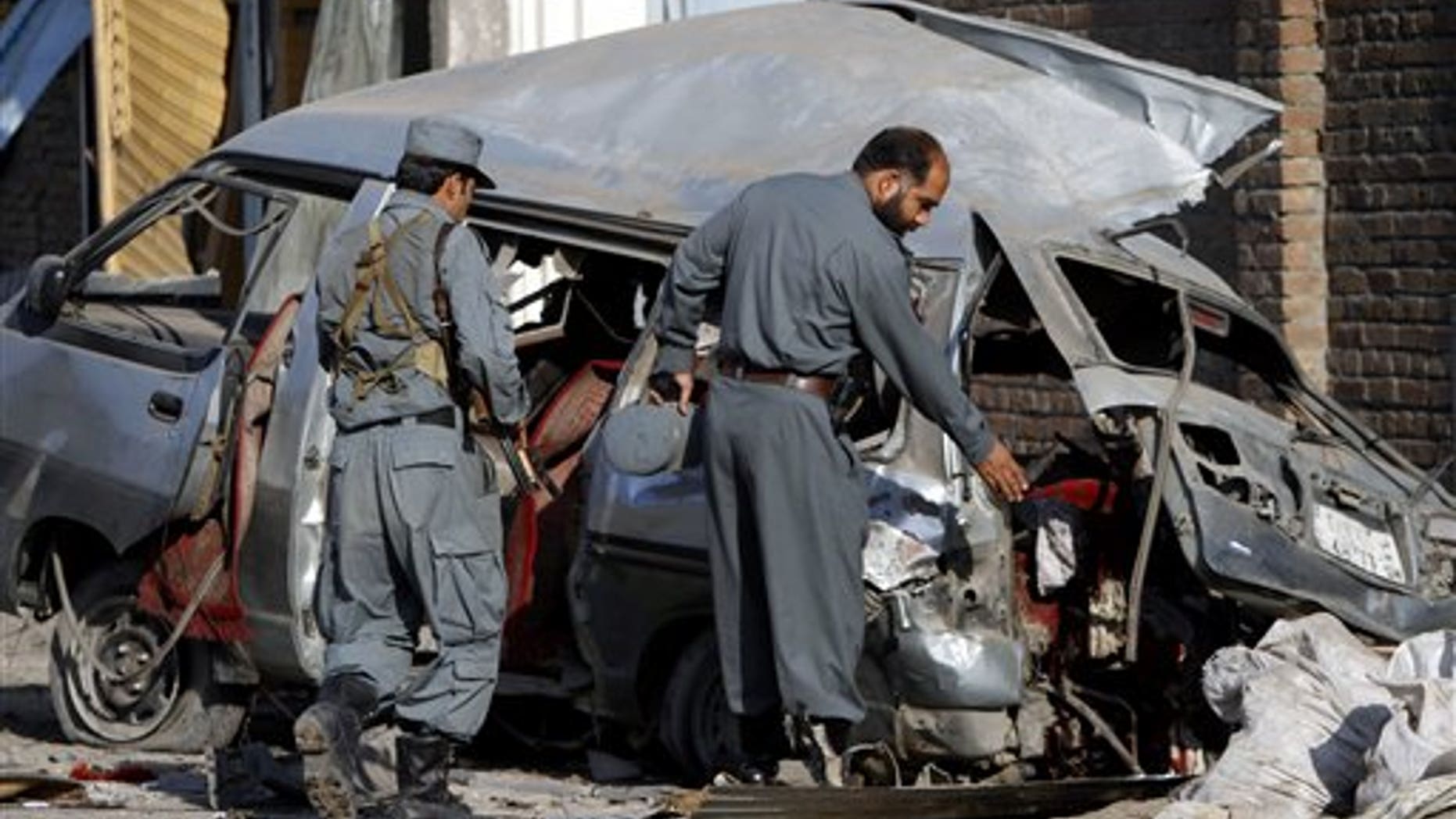 KABUL, Afghanistan – Fighting has escalated in eastern Afghanistan as Afghan and coalition forces step up their attacks on insurgents along the Pakistan border and militants retaliate with attacks on pro-government forces, including a bomb blast Thursday that killed three Afghan policemen.
Ahmad Zia Abdulzai, a spokesman for the governor of Nangarhar province, said the three policemen were killed by a bomb that was placed on a bus.
The bus was transporting Afghan policemen and trainees to a training academy in the provincial capital of Jalalabad. Six others on the bus were wounded in the explosion, Abdulzai said.
Afghanistan's spring fighting season is expected to be in full force by the end of this month.
Before winter set in, tens of thousands of U.S. and NATO reinforcements routed the Taliban from their strongholds, captured leading figures and destroyed weapons caches. The militants, known for their resiliency, responded with high-profile attacks across the nation.
What's unknown is how strong the Taliban will prove to be as the fighting gears up in what could be a defining year in the nearly decade-old war.
"In the last several weeks, the activity is starting to go up more, so they (insurgents) are starting to come back" from Pakistan, said Maj. Gen. John Campbell, commander of coalition forces in eastern Afghanistan. Campbell spoke to reporters Wednesday night at Bagram Air Field.
"We've hammered the Haqqani network and the insurgents," he said, referring to the insurgent network, which is affiliated with al-Qaida and often blamed for attacks in the Kabul. "We killed a lot of low level and mid-level leadership, especially the Haqqani network, because we have really been going after that. And what we have started to see is that leadership is much younger and less experienced."
Campbell said the spring offensive would continue to attack safe havens and supply lines in eastern Afghanistan with the help of Pakistani forces on the other side of the border.
At least 21 U.S. troops have been killed in Afghanistan so far this year, at least 10 in eastern Afghanistan.
In other incidents in the east, two Afghan men were killed and four other people — three women and a child — were wounded Thursday when their van struck a roadside mine in Dih Yak district of Ghazni province, said Sher Khan Yousefzai, the top local official in neighboring Andar district.
A French soldier was killed and nine others were wounded when their armored vehicle struck a road side bomb Wednesday in Kapisa province, the French Defense Ministry said.
Also, 17 insurgents, including foreign fighters, were killed Tuesday in Kunar province by Afghan and coalition forces searching for a senior leader of the al-Qaida network, NATO said late Wednesday. According to the coalition, the al-Qaida leader commanded insurgents and directed the purchase of equipment used to attack pro-government forces in the border region.
NATO also said that a Haqqani operator was captured Wednesday in Tere Zayi district of Khost province, which borders Pakistan and that several suspected insurgents were detained in the provincial capital of Khost. According to NATO, the individuals have been conducting military training and developing a compound linked to al-Qaida leaders based in Pakistan.
___
Associated Press Writer Kristin Hall embedded with U.S. forces in eastern Afghanistan contributed to this report.